Airline executive offers apology for ad's consequences
A top executive of EVA Airways, Taiwan's second-largest airline, apologized to rice growers in Taitung County's Chihshang Township (池上) on Monday for the adverse impact a TV commercial for the airline that was shot there has caused.
EVA Air chairman Chang Kuo-wei (張國煒) told Taitung County Commissioner Justin Huang (黃健庭) during a visit to the county that he felt remorse after seeing the commercial causing damage and inconveniencing the farmers, whose agricultural activities were disrupted by a constant flow of tourist vehicles.
"It's not right that we borrowed the landscape, but caused inconvenience [to the locals]," Chang said as he called for travelers to treat Chihshang with love.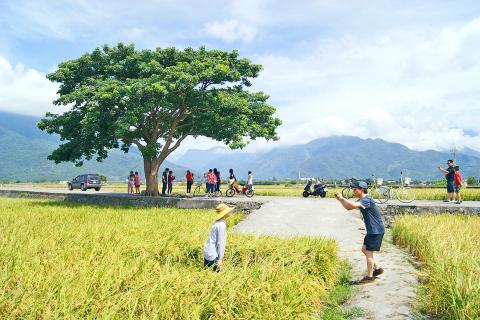 Tourists walk through rice paddies while taking photographs of a famous tree in Taitung County's Chishang Township on Tuesday last week.
Photo: Wang Hsiu-ting, Taipei Times
The popular commercial, featuring Takeshi Kaneshiro (金城武), a Japanese actor whose mother is Taiwanese, highlights the township's landscape of extensive green rice paddies.
A road along the fields, which Kaneshiro tours by bicycle in the advertisement before coming to a stop under a tree, has become a big hit with tourists since the commercial was released last year.
Tourists have swarmed to Brown's Road — now nicknamed Takeshi Kaneshiro Road — that was described as a "green road of paradise" in the advertisement.
The surging number of visitors have forced local farmers to fight tourists for use of the road during harvest season.
Some tourists have even been seen walking into paddies close to the "Takeshi Kaneshiro tree" to take photographs.
Following complaints by local farmers, the county government banned nonagricultural vehicles from accessing the road during harvest season from July 1 to Aug. 31. The ban marks the first traffic restriction the county has ever placed on a road in the countryside.
Comments will be moderated. Keep comments relevant to the article. Remarks containing abusive and obscene language, personal attacks of any kind or promotion will be removed and the user banned. Final decision will be at the discretion of the Taipei Times.