CROSSING THE STRAIT: Protesters hurl paint at Chinese official's convoy
A mess of white paint and joss paper greeted delegates to the second meeting between Mainland Affairs Council (MAC) Minister Wang Yu-chi (王郁琦) and China's Taiwan Affairs Office Minister Zhang Zhijun (張志軍) in Greater Kaohsiung on Friday.
Protesters, including members of the Black Island National Youth Front and the Taiwan Solidarity Union, were already present and chanting slogans when Zhang's vehicle arrived near the Sizihwan Sunset Beach Resort, the venue for the meeting.
"Taiwan's future should be decided by Taiwanese," "Zhijun came, and democracy died" and "We condemn police violence," they shouted.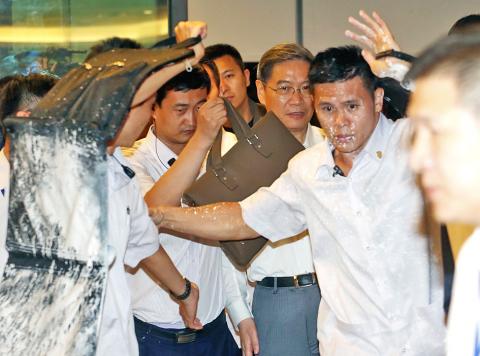 Security staff surround China's Taiwan Affairs Office Minister Zhang Zhijun, center back, after paint was thrown on his car as it entered National Sun Yat-sen University in Greater Kaohsiung on Friday evening.
Photo: CNA
Protesters said the cavalcade resembled a funeral procession, as Zhang's vehicle entered the resort slowly, flanked by security agents.
A student protester surprised the police by appearing suddenly and tossing ghost money at the convoy, but was soon taken away by police.
In the chaos, another protester splashed white paint at Zhang's vehicle, hitting several security personnel, who were protecting the car.
The police opened up black umbrellas as protesters threw water at the car, making the scene further resemble a funeral.
Taiwan Solidarity Union (TSU) member Chen Chang-huei (陳昌輝) tried to force his way into the venue, but was blocked and removed by police, despite other TSU members wrestling with them.
In the commotion, Chen seemed to have tripped and hit his head on the ground. He lost consciousness and was taken to the hospital.
At least 400 policemen were dispatched to the site and an additional 66 special officers deployed.
The student who tossed the joss paper was injured by the police.
He said he did not belong to any group, and that he was merely an adult who cared about Taiwan's future and wanted the public's dissenting voices to be heard.
The group accused the police of turning into Chinese public security agents who protected a low-ranking Chinese official, but used violence against young Taiwanese.
After the Chinese guests finally got into the building, MAC Deputy Minister Chang Hsien-yao (張顯耀) appeared outside the venue visibly angered.
He criticized council staff and demanded to speak to the police officer in charge, questioning why there was an insufficient police force present.
Chang then started to direct the police, ordering a SWAT team to stand by the door.
Yesterday, Zhang said the protests were "normal."
"Taiwan is a pluralistic society where people hold a diversity of views. It's normal. I believed that both sides of the Strait should adhere to a path of peaceful development in cross-strait relations and this is also mainstream public opinion," Zhang said.
However, Zhang did not comment on the paint-splashing incident on Friday night.
Wang told reporters late on Friday night that he had told Zhang people protesting to make their voices heard is "a part of life in Taiwan," and that he must get accustomed to it because Taiwan is a democratic society.
"I told him that this is pretty much what we experience in our daily lives. We are used to it. Now that he is head of the Taiwan Affairs Office, he has to understand Taiwan more," Wang said.
For her part, Greater Kaohsiung Mayor Chen Chu (陳菊) said yesterday that people expressing their views in a non-peaceful manner is not the sort of hospitality that Taiwanese should show.
Additional reporting by Peng Hsien-chun
Comments will be moderated. Keep comments relevant to the article. Remarks containing abusive and obscene language, personal attacks of any kind or promotion will be removed and the user banned. Final decision will be at the discretion of the Taipei Times.