TRADE PACT SIEGE: White-clad army demand return of Legislative Yuan
Hundreds of white-clad protesters against the student-led occupation of the Legislative Yuan yesterday held up banners urging people planning to participate in a mass pro-occupation demonstration on Ketagalan Boulevard that day to "go home and return the legislature to the people."
Waving Republic of China (ROC) flags and wearing white T-shirts printed with the slogan: "Come forward for stability, Taiwan goes global" (安定站出來, 台灣走出去), the anti-occupation protesters gathered outside the Exit East 3 of Taipei Main Station at 2pm yesterday in an attempt to "talk some sense" into people who traveled to Taipei by trains for the mass protest against the cross-strait service agreement yesterday afternoon.
"We want to see the controversy dealt with via the representative system instead of street protests. If the students think the system is flawed, they should resort to deliberative democratic mechanisms or popular referendums, not take to the streets as people did decades ago," said Sun Chien-ping (孫健萍), convener of the White Civil Justice League, which initiated the anti-occupation protest.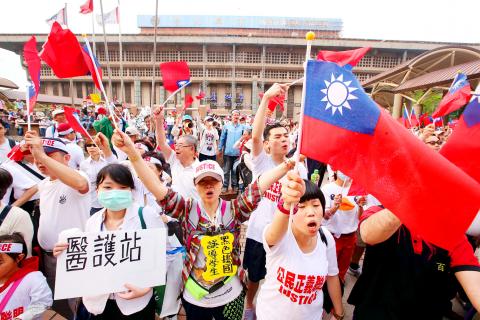 Demonstrators opposed to the protests against the cross-strait service trade agreement demonstrate outside Taipei Railway Station yesterday as a mass rally against the agreement took place along Ketagalan Boulevard in Taipei.
Photo: CNA
The so-called "white-clad army" then marched toward Zhongshan N Road, which is 30 minutes' walking distance from Ketagalan Boulevard.
It originally planned to rally on the road until 7pm, the planned conclusion time of the Ketagalan protest, but was advised to return to the station by police after causing severe traffic jams.
Supporters of the pact have put up boards reading: "Punish violence" and "Return the legislature to the people" on the pedestrian walkway at the intersection of Zhongxiao W Road and Zhongshan S Road.
However, the signs were quickly changed by opponents of the agreement into "Punish 'governmental' violence" and "Return the 'democratic' legislature to the people."
Throughout the process, only verbal disputes broke out between the white-clad army and the black-clad activists protesting against the pact.
The pact has stirred up public concerns since its signing on June 21 last year and prompted hundreds of students to occupy the legislature on March 18 after the way the pact with China was fast-tracked through a legislative committee by Chinese Nationalist Party (KMT) lawmakers.
Public divisions over the agreement are deepening as President Ma Ying-jeou (馬英九) remains adamant in his determination to bring the deal into effect.
Comments will be moderated. Keep comments relevant to the article. Remarks containing abusive and obscene language, personal attacks of any kind or promotion will be removed and the user banned. Final decision will be at the discretion of the Taipei Times.