Police break up protest by former Hualon employees
QUICK RESPONSE: Police arrived and removed the people soon after the group showed up unannounced and impeded traffic outside the Presidential Office
Nearly 100 former Hualon Group employees and their supporters staged a surprise demonstration outside the Presidential Office in Taipei yesterday morning then blocked traffic for half an hour while they called on the government to assist them with their demand that their former employer issue retirement payouts.
"The government is incapable, workers' New Year is horrible. Give us the retirement payouts we deserve," about 100 former Hualon employees and their supporters chanted as they arrived unannounced in front of the building and sat down on the street, blocking traffic at about 10am yesterday.
"We're not here to sabotage or threaten anyone. We are here begging for help from the government," former Hualon employee Chen Wen-ming (陳文明) said. "As many as 400 of us are owed retirement payouts from our former employer, and according to the law, it's the government's job to help us pursue what we deserve, but we are not getting any actual help despite promises from officials over the past years."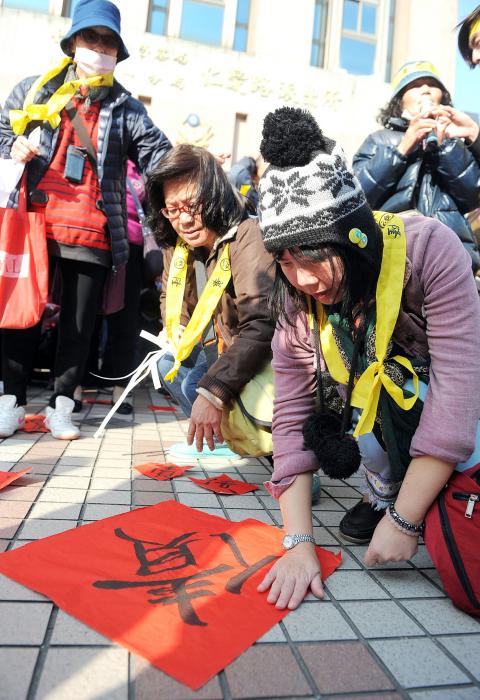 Protesters lay posters on the pavement outside the Renai Road Police Station in Taipei yesterday.
Photo: Wang Min-wei, Taipei Times
Chen said that in the past few years the workers have sought help from the Legislative Yuan, the Control Yuan, the Executive Yuan, the Presidential Office and the Council of Labor Affairs and while representatives from those agencies all promised to help, the issue remains unresolved.
The workers were soon confronted by busloads of police officers who removed them by force not long after the protest began.
Protesters resisted and clashed with officers, leading to the arrest of Chen Wen-ming, as well as two student activists, Chen Wei-ting (陳為廷) and Chen Kuang-hsuan (陳光軒).
The protest group gathered in front of Renai Road Police Station in the afternoon after learning that the three protesters were taken there after being arrested and waited until they were released.
"It saddens me to see how brutally the police have treated us and those who have supported us," Hualon Self-Help Association president Lee Tsuei-ming (李翠明) said in front of the police station. "We are only trying to get what we were supposed to receive. It is ridiculous that the police are protecting government officials and capitalists who have repeatedly broken their promises, instead of protecting workers."
The demonstrators soon ended their action after laying red posters with the character zhai (debt, 債) on the ground.
They said the word was meant to remind the government of the debts that were still owed to the former Hualon workers.
Comments will be moderated. Keep comments relevant to the article. Remarks containing abusive and obscene language, personal attacks of any kind or promotion will be removed and the user banned. Final decision will be at the discretion of the Taipei Times.