Laid-off employees stage protest outside presidential residence
The Alliance for Workers of Closed-Off Factories staged a protest outside the presidential residence on Tuesday night, calling on the government to withdraw lawsuits against them and clashing with security personnel.
More than a dozen protesters showed up unexpectedly with a Christmas tree in front of the presidential residence and began singing, to the tune of Silent Night: "Silent night, we have nothing to cook, there are bad bosses everywhere, they make so much money, they eat our flesh and blood."
The police officers standing guard outside the gate called for backup forces as the number of protesters was high.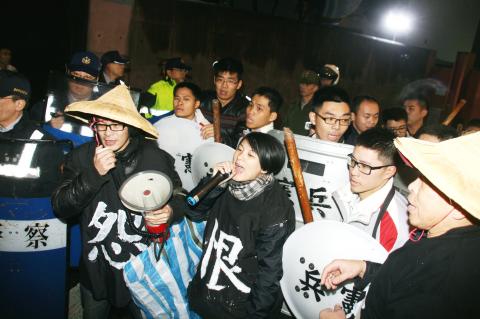 Members of the National Alliance for Workers of Closed-Off Factories are pushed by military police officers while singing their own version of Silent Night at a protest outside the presidential residence in Taipei on Tuesday evening.
Photo: Loa Iok-sin, Taipei Times
The officers then lined up behind the protesters and began pushing. After that, the first wave of physical clashes began.
"What are you doing? We're just singing a Christmas carol. We're not doing anything violent," a protester shouted.
The police soon declared the assembly illegal and asked the protesters to disband immediately, but the protesters responded by singing even louder.
"Stop pushing us. We are holding a religious activity here, which is not regulated by the Assembly and Parade Act [集會遊行法]," said Wuo Young-ie (吳永毅), a researcher for the Taiwan International Workers' Association (TIWA).
During the clashes, a military police officer was dragged out of the line, while another had his baton taken by a protester.
The workers say they are owed retirement payouts from when their employers closed factories about 16 years ago.
The Council of Labor Affairs intervened at the time, giving payouts to the workers in the form of loans and promising that it would ask their employers to repay them.
However, when the deadline arrived, the council — unable to have the employers repay the loans — demanded that the workers repay them.
The council sued the people who failed to repay the loans, leading to a series of protests over the past two years.
After singing for nearly 10 minutes, the protesters called an end to the rally. However, they were angered when the police declared their action illegal for a second time as they were walking away, provoking a second wave of physical and verbal clashes.
"We will be back again on Dec. 31, be prepared," TIWA executive director Wu Ching-ju (吳靜如) told the police as the protesters were leaving. "In fact, we will be here on every holiday until the government withdraws the lawsuits against the workers."
Comments will be moderated. Keep comments relevant to the article. Remarks containing abusive and obscene language, personal attacks of any kind or promotion will be removed and the user banned. Final decision will be at the discretion of the Taipei Times.