Forced organ harvesting highlighted
'ORGAN SUPERMARKET': Lawmakers and activists urged Taiwanese to stop going to China for transplants, saying many of the organs come from prisoners of conscience
A petition initiated by Doctors Against Forced Organ Harvesting to stop the practice in China has garnered more than 230,000 signatures in Taiwan, lawmakers and activists said on Human Rights Day yesterday.
The appeal to the UN Human Rights High Commissioner was started in the middle of June and calls for an "immediate end of forced organ harvesting from Falun Gong practitioners in China."
As of the end of last month, nearly 1.5 million people around the world have signed the petition, including about 1 million from Asia.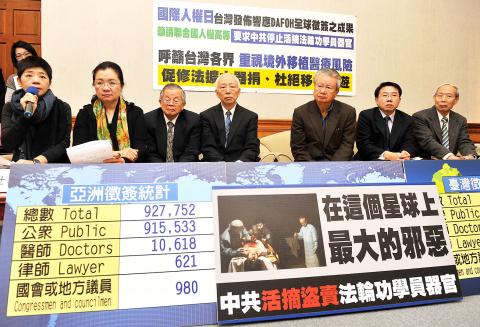 Legislators, government officials and representatives of civic groups mark International Human Rights Day in Taipei yesterday by displaying a breakdown of the number of people who have signed a petition condemning China's alleged organ harvesting from Falun Gong followers.
Photo: Chien Jung-fong, Taipei Times
Democratic Progressive Party (DPP) Legislator You Mei-nu (尤美女) said that Taiwan is a nation governed by human rights principles and Taiwanese, who are guaranteed the right to health, should not "build their wellbeing on somebody else's sorrow or pain."
"China has been the main destination of Taiwanese needing organ transplants. However, we have to be aware that a lot of the organs used for transplants in China are sourced from prisoners of conscience and imprisoned Falun Gong practitioners... The public has the right to know and the transparency of relevant information should be enforced by our government," she said.
DPP Legislator Tien Chiu-chin (田秋堇) said Taiwanese are blessed today because they enjoy the product of their predecessors' struggle for freedom from fear and for free speech.
"They are like the air. People don't sense their presence until they are taken away, " she said.
"I've personally seen a Falun Gong practitioner calling a hospital in China and getting the response that a patient in need can undertake the matching process needed for an organ transplantation any time," she added. "It makes people suspect that there exists an organization that operates like an organ supermarket."
International Care Association of Organ Transplants chairman Hu Nai-wen (胡乃文) said the Chinese government has failed to explain the discrepancy between the number of organ transplants performed in China and the number of executed prisoners, which it identified as the source of the organs.
Tien said she had proposed, unsuccessfully, to deny National Health Insurance coverage for anti-rejection medications to those who did not fill out a form stating the name of the hospital and the surgeon who performed the organ transplant.
"People are asked to fill out the form for the coverage, but there is no punishment if you fail to comply," Tien said.
Responding to the lawmakers' and groups' concerns, Ministry of Health and Welfare's Department of Medical Affairs Director Lee Wei-chiang (李偉強) said the government does not encourage overseas organ transplantations due to the medical risk and questions about the source of the organs.
"The number of Taiwanese who went to China for organ transplants has been decreasing over the years. And there is a consensus that organs donated by prisoners should not be accepted," Lee said.
He added that the ministry has proposed an amendment to the Human Organ Transplant Act (人體器官移植條例), which would make brokering organ transplants a crime subject to one to five years in prison.
Comments will be moderated. Keep comments relevant to the article. Remarks containing abusive and obscene language, personal attacks of any kind or promotion will be removed and the user banned. Final decision will be at the discretion of the Taipei Times.