Take steps against China's ADIZ move: DPP
China's demarcation of an East China Sea air defense identification zone (ADIZ) that includes the disputed Diaoyutai Islands (釣魚台) is a clear act of expansionism that risks destabilizing the Asia-Pacific region and the world's failure to take substantial actions will only embolden China to launch military aggression against its neighbors, the Democratic Progressive Party (DPP) said yesterday.
At the instruction of DPP Chairman Su Tseng-chang (蘇貞昌), DPP Policy Research Committee executive director Joseph Wu (吳釗燮), International Affairs Department director Liu Shih-chung (劉世忠), China Affairs Department director Hung Tsai-lung (洪財隆) and former National Security Council (NSC) consultant York Chen (陳文政) made the remark at a press conference in Taipei yesterday morning.
The party issued three demands to President Ma Ying-jeou's (馬英九) administration: that the government lodge a stern protest against China's unilateral declaration of the ADIZ in an attempt to challenge the "status quo" in the region; that it maintain close contact with concerned allies to work out a plan for cooperative efforts and pay close attention to the matter; and that it work to ensure uninterrupted patrols by Taiwan's fighter jets and naval vessels in the nation's own ADIZ in waters off northeastern Taiwan and take substantial measures to defend the nation's sovereignty and national security.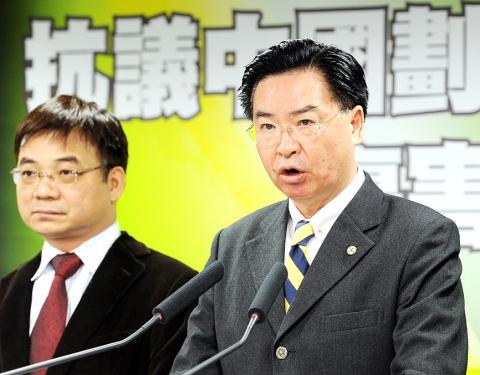 Democratic Progressive Party Policy Research Committee executive director Joseph Wu, right, yesterday criticizes China's inclusion of the Diaoyutai Islands in its East China Sea air defense identification zone during a press conference in Taipei.
Photo: Fang Pin-chao, Taipei Times
China's unilateral demarcation of the ADIZ, which overlaps that of Taiwan's and Japan's, not only runs counter to international norms, but also underlines its apparent attempt to unilaterally change the "status quo" in the region, Wu said.
"Such an action may escalate tensions and seriously jeopardize the peace and stability in the Asia-Pacific region. The DPP solemnly remonstrates against such irresponsible and provocative behavior and demands that China immediately retract its ADIZ announcement," Wu said.
Wu said history had shown that weakness only breeds more aggressive expansion and costs nations more dearly afterward.
"Forty-eight hours have passed [since China's ADIZ announcement on Saturday]. However, the Ma administration's responses to the matter have remained unbelievably feeble, with the National Security Council voicing concerns and the Ministry of National Defense expressing regret," Wu said.
"The government's failure to lodge a protest or issue a condemnation of China's behavior constitutes a serious dereliction of duty, and the party is extremely disappointed," Wu said.
Wu said the party expressed support for US Secretary of State John Kerry's condemnation of China for initiating a "unilateral action that constitutes an attempt to change the status quo in the East China Sea" and to US Secretary of Defense Chuck Hagel's reiteration of the US' commitment to defend its Asian allies in case of a conflict.
"The DPP is also willing to join hands with its international partners to safeguard peace and stability in the region," Wu said.
Separately, Minister of Foreign Affairs David Lin (林永樂) said the government has been in contact with the US and Japan over China's ADIZ announcement.
"We have expressed our hopes that all parties concerned will resolve disputes through peaceful dialogue to maintain regional peace and stability," Lin said on the sidelines of a hearing of the Legislative Yuan's Foreign Affairs and National Defense Committee.
However, he declined to go into detail when asked about the contents of talks with the US and Japan over China's ADIZ demarcation.
Lin said that the communications were mainly aimed at expressing Taiwan's hope that territorial disputes would be settled via peaceful dialogue.
"This is the most important principle that should prevail," Lin said.
Comments will be moderated. Keep comments relevant to the article. Remarks containing abusive and obscene language, personal attacks of any kind or promotion will be removed and the user banned. Final decision will be at the discretion of the Taipei Times.