CNN posts report on New Taipei City's 'cat village'
Houtong (猴硐), a small town in New Taipei City (新北市) that has become known for its large cat population, has recently been named by CNN as one of six places worldwide "where cats outshine tourist attractions."
The town, which is encircled by hills, was once home to one of Taiwan's major coal mines and now maintains a museum to showcase its mining heritage.
"But visitors mostly come to photograph the 120 or so playful cats, who laze around the cat village and soak up the fuss — and inevitable treats," the article posted on CNN.com under the travel section reads. "Cats here are used to amateur paparazzi. Their portraits are all over Facebook and Flickr."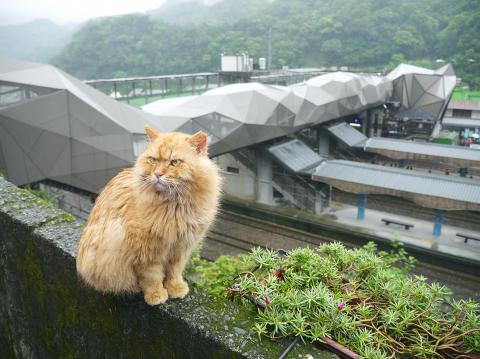 A cat sits on a railing next to a railway overpass in Houtong, New Taipei City, on March 30. Houtong has been named by CNN as one of six places worldwide "where cats outshine tourist attractions."
Photo: Wang Ying-chieh, Taipei Times
Houtong, which means "monkey cave" in Chinese, got its name long ago, when it was inhabited by a large number of monkeys.
Stray cats began to move into the town in recent years and it has been nicknamed "cat village" since people found out about the cat population there.
As part of its efforts to boost local tourism, the New Taipei City Government has built a cat-friendly overpass there to facilitate interaction between cat-lovers and the animals.
According to the city's Tourism and Travel Department, since the overpass was opened to the public in March, the number of visitors to Houtong has increased 30 percent.
Other cat-related attractions recommended by CNN include the "kitty ruins" at Largo di Torre Argentina in Rome and the Japanese cat islands of Tashirojima and Ainoshima.
The other two are the Turkey resort of Kalkan and the Ernest Hemingway Home and Museum in Florida.
Comments will be moderated. Keep comments relevant to the article. Remarks containing abusive and obscene language, personal attacks of any kind or promotion will be removed and the user banned. Final decision will be at the discretion of the Taipei Times.