Huagang residents and ministry still in deadlock
Huaguang Community (華光社區) residents and the Ministry of Finance yesterday failed to reach an agreement on the compensation that a court has asked residents to pay for "illegally benefiting" from "illegal occupation" of government land.
"According to current laws, these residents may be considered 'illegal,' but the government should look into the historic context, the issue should be resolved through arbitration by a third party, a lawsuit should be the last resort," Ho Yu-lun (何友倫), a student activist, said during a protest outside the ministry in Taipei.
Ho was referring to the Ministry of Justice's pursuit of compensation — millions of NT dollars — from Huaguang Community residents, as a court ruled that they had illegally occupied government land.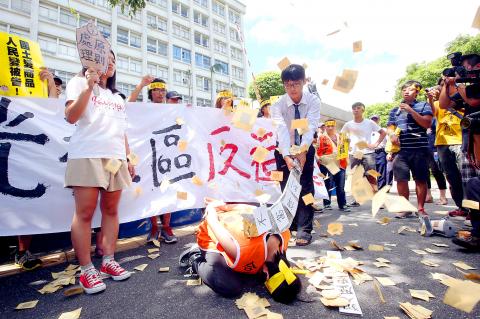 Residents of the Huaguang Community perform a skit at a press conference in Taipei to protest against the government's land revitalization policy.
Photo: CNA
However, the residents and their supporters argue that the Huaguang Community issue is much more complicated, since many of the residents were low-ranking soldiers who fled to Taiwan with the Chinese Nationalist Party (KMT) regime following its defeat by the Chinese communist Party and they were unofficially allowed to build homes on the land because the government were unable to resettle them.
Although the land belongs to the Ministry of Justice, the residents have paid property taxes, and are provided utilities and allowed to sell their houses.
A Huaguang Community resident surnamed Cheng (鄭), said the government should show mercy to the residents and lift their burden by voiding the compensation claim.
"With the millions of NT dollars of compensation burdening us, those residents who were middle class are now in poverty, while those who were already economically disadvantaged are now deeper in debt," she said.
Another resident surnamed Lin (林) said her family's debt had grown from about NT$2 million (US$66,700) a few years ago to NT$7 million.
National Property Administration Deputy Director-General Pian Tzu-shu (邊子樹), who met with the protesters, insisted that the government is acting according to the law and that it cannot do anything to help.
Representatives of the residents were invited to negotiate with officials inside the ministry, but the meeting was called off within half an hour because the two sides could not reach an agreement.
Comments will be moderated. Keep comments relevant to the article. Remarks containing abusive and obscene language, personal attacks of any kind or promotion will be removed and the user banned. Final decision will be at the discretion of the Taipei Times.