Ability to handle nuclear waste questioned
A former government nuclear official yesterday said that Taiwan should abandon nuclear power because it is not capable of handling nuclear waste and its regulation of nuclear activity and radiation has been awful.
"People called me a nuclear expert with a conscience, a good person. Not that I am a good guy, but the fact is that [government officials in charge of nuclear affairs] are bad guys," said He Li-wei (賀立維), a nuclear expert who used to work at the Atomic Energy Council's Institute of Nuclear Energy Research.
In a seminar on nuclear risk assessment organized by several anti-nuclear civic groups, He, who holds a doctorate in nuclear engineering from Iowa State University, described himself as someone who was looking for redemption with his anti-nuclear efforts.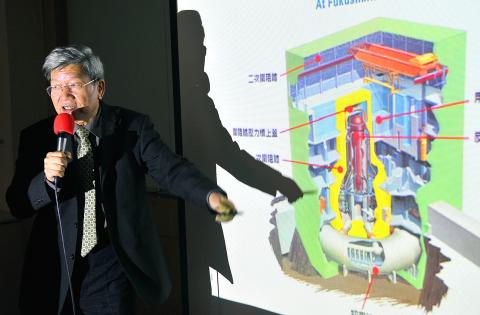 He Li-wei, a nuclear expert who used to work for the Institute of Nuclear Energy Research, addresses a seminar organized by anti-nuclear groups yesterday in Taipei about nuclear waste disposal.
Photo: Chien Jung-fong, Taipei Times
He delivered a 30-minute briefing on Taiwan's nuclear waste disposal predicament, saying that the nation's nuclear power plants would consume 30,000kg of uranium over their 40-year lifespan, compared with the 1kg of uranium in the "Little Boy" atomic bomb that the US dropped on Hiroshima in 1945.
"By the time the three active nuclear power plants are decommissioned, they will have consumed more than 4,500 tonnes of uranium and we have no idea how to deal with the spent nuclear fuel," he said.
Unlike Finland, which stores its nuclear waste 500m underground, the situation has been especially difficult for Taiwan, which neither has the technology to handle nuclear waste nor an appropriate storage location.
What is worse has been government officials' lies about nuclear radiation levels on Lanyu (Orchid Island, 蘭嶼), where low-level nuclear waste is stored, and the government's lack of transparency, He said.
He said the activities of the "nuclear power community" — including National Tsing Hua University's nuclear engineering department, Taiwan Power Co (Taipower) and the council — as something akin to "organized crime" because the council has been awarding research projects to Tsing Hua professors or retired Taipower and nuclear power plant executives as favors. These people cover up the flaws in the nuclear power plants in return, he said.
The now retired He said many professors and government officials had been his students and he "should have flunked them in my class because scientists are supposed to speak the truth, not twist data or cover up mistakes."
Two Japanese, Katsumi Nakao of J.F. Oberlin University and Yoh Kato of Tokyo Metropolitan University, also spoke at the seminar about the handling of the Fukushima Dai-ichi nuclear power plant disaster.
Comments will be moderated. Keep comments relevant to the article. Remarks containing abusive and obscene language, personal attacks of any kind or promotion will be removed and the user banned. Final decision will be at the discretion of the Taipei Times.