Linkou residents protest planned athletes' village
CONCERNED: A Linkou resident said that he feared that the athletes' village would damage the quality of life in the area, as well as exacerbate water supply problems
Residents of New Taipei City's (新北市) Linkou District (林口) yesterday protested a plan to turn 16 hectares of woodland and parks into an athletes' village for the 2017 Universiade and clashed verbally with officials at a presentation for the project.
"Call off the meeting," "Show some respect for Linkou residents," residents shouted while holding up a giant banner that read: "No to deforestation in Linkou by Taipei City," interrupting the meeting of Taipei and New Taipei City officials to present the athletes' village project at Linkou Senior High School yesterday afternoon.
To accommodate the needs of athletes taking part in the Universiade, which will be hosted by the Taipei City Government, an athletes' village in Linkou is being planned and the dormitories for athletes will later be converted into 3,000 housing units for sale or rent.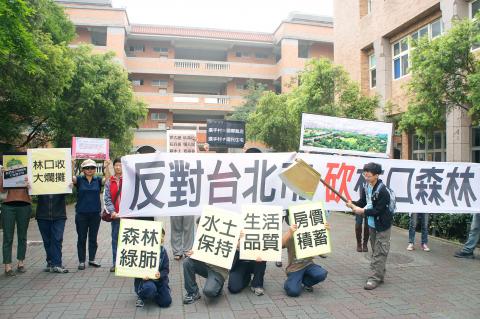 Residents of New Taipei City's Linkou District yesterday perform a skit protesting a plan to turn 16 hectares of woodland and parks into an athletes' village for the 2017 Universiade. The main banner reads: "Stop Taipei City from chopping down Linkou's forest."
Photo: Lai Hsiao-tung, Taipei Times
The plan met with strong opposition from residents when it was made public last year.
"You know why we're so upset? Because you never told us about it before you selected the site," Linkou resident Chu Yu-lin (朱玉麟) shouted at officials sitting in the front.
"A decision that concerns the public should not be made by just a few," Chu added.
Some residents also challenged the legitimacy of the meeting.
"The Taipei City Government notified the New Taipei City Government about the meeting last week and it was even later when we residents received notice. Some people in some neighborhoods learned about it on Thursday and I never even got the news," said Hsu Chu-feng (許主峰), a teacher at Linkou Community College.
"I suspect this is a trick that the government played so that those affected wouldn't be able to make it to the meeting to express their opposition," Hsu said.
As officials insisted on continuing the meeting, most opponents to the plan decided to withdraw from the meeting, leaving about two-thirds of the seats empty.
"It's ridiculous that we have to sacrifice 16 hectares of woodland with rich biodiversity and parks to cater to the needs of a sports event that only lasts two weeks," Action Alliance for Saving Woodlands in Linkou convener Wang Chen-nai (王貞乃) said.
"It took more than 40 years for threes to grow on those lands, and five of the trees have been placed on the protected trees list because of their age by the [New Taipei City] Department of Agriculture. We are strongly opposed to the destruction of such a rare area in the Taipei metropolitan region."
Chu said he was worried that the athletes' village would destroy the quality of life in Linkou.
"Although most newly completed housing complexes are still empty, traffic problems have already appeared. The problem would only get worse because the government plans to turn the athletes' dormitories into about 3,000 housing units for sale or for rent. Don't forget that in Gueishan Township (龜山), Taoyuan County, on the other side of the Linkou Plateau, the government is also planning to build more social housing complexes," Chu said.
"In addition, we're already experiencing a water shortage, I don't know how they're going to supply enough water for tens of thousands of more people," Chu added.
In a press release, the New Taipei City Department of Urban and Rural Development said the Taipei City Government has already agreed to preserve the Linkou Sports Park, adding that the New Taipei City Government would continue to negotiate with Taipei on the project's impacts on traffic and ecology.
Comments will be moderated. Keep comments relevant to the article. Remarks containing abusive and obscene language, personal attacks of any kind or promotion will be removed and the user banned. Final decision will be at the discretion of the Taipei Times.