Japanese-era dining hall a magnet for cosplay fans
A wooden building called Liuwu (柳屋) in Greater Tainan's Jhongsi District (中西) has become a popular site for cosplay enthusiasts who like posing in costumes for pictures in traditional Japanese-style surroundings.
On weekends, small crowds of cosplay enthusiasts dressed as various Japanese manga characters can be seen posing for pictures in front of the Liuwu, or the Shihpamao Tea House, the name given it by its new operator, Yeh Tung-tai (葉東泰).
Cosplay, or costume play, is a type of performance art that originated in Japan in which participants wear costumes and accessories to portray a specific character, mostly from animations, caricatures or video games.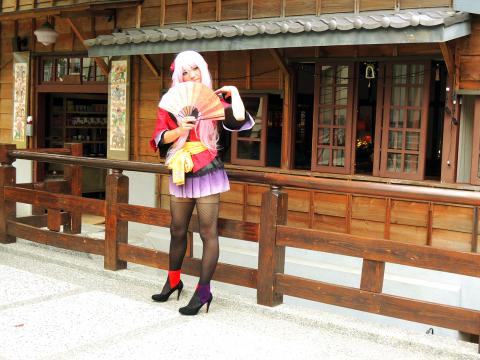 A cosplay fan poses on Tuesday last week in front of a Japanese colonial-era building in Greater Tainan.
Photo: Meng Ching-tzu, Taipei Times
The city's National Cheng Kung University has long been a famous gathering point for cosplay devotees in southern Taiwan, but it is gradually being overtaken by the Liuwu.
Yeh said that the Liuwu — a former dinning hall for the Japanese that was built around 1934 — was unlike other traditional Japanese-style structures whose wooden beams were normally left unpainted to preserve their original color and grain.
Brown paint was applied to the beams used to construct the Liuwu, Yeh said, mainly to help preserve the wood in Taiwan's humid weather.
"To most Taiwanese, the Liuwu may appear to be no different from any other traditional Japanese building, but a Japanese could easily discern the subtle Taiwanese flavor incorporated in the building," Yeh said.
While Tainan, a former capital of Taiwan, has a rich nostalgic atmosphere, it must be infused with an innovative spirit, rather than simply dwelling on the past, to keep pace with modern society, Yeh said.
In an effort to bring in innovations to his tea house, Yeh has launched a tea-tasting set featuring two pottery tea cups larger than ordinary ones. One is termed the "scent cup" (聞香杯), while the other is called the "sample teacup (品茗杯)" — affording customers a different experience of tea appreciation.
The scent cup, also known as the sniffle cup, is designed for tea enthusiasts to appreciate the aroma of infused tealeaves, while the sample teacup is used for drinking.
Comments will be moderated. Keep comments relevant to the article. Remarks containing abusive and obscene language, personal attacks of any kind or promotion will be removed and the user banned. Final decision will be at the discretion of the Taipei Times.