Court postpones verdict on same-sex marriages
OPEN MIND? Some gay rights advocates praised the decision by a Taipei judge to seek a constitutional interpretation, while others said it was a delaying tactic
Reactions among gay rights advocates were mixed yesterday after the Taipei High Administrative Court announced that it was postponing a verdict on whether same-sex marriages should be legally recognized, while the court seeks a constitutional interpretation from the Council of Grand Justices.
The court was widely expected to hand down its decision yesterday on whether same-sex couples have the right to register their marriage, but instead said it was seeking a constitutional interpretation while holding further debates before making a judgement.
"I think this is a good decision, I'm happy to see it," said Nelson Chen (陳敬學) who, with his companion, Kao Chih-wei (高治瑋), filed the administrative lawsuit against the Zhongshan District Household Registration Office in Taipei, for rejecting their marriage registration last year.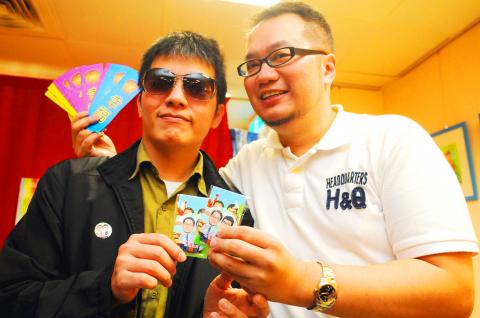 Gay couple Kao Chih-wei, left, and Nelson Chen, who filed an administrative lawsuit after their marriage registration was rejected last year, attend a press conference in Taipei yesterday.
Photo: CNA
"I am confident and hopeful of the outcome of the constitutional interpretation, because the world is changing," Chen said. "I hope Taiwan would be the first Asian country to recognize same-sex marriages through a judicial ruling."
He then extended his appreciation to those who have supported them along the way.
Chen and Kao were married in a public wedding ceremony in 2006. They went to the district household registration office to register their marriage last year, but wre turned down.
After a failed appeal, the couple filed a lawsuit against the household registration office with the Taipei High Administrative Court.
Gender/Sexuality Rights Association Taiwan secretary-general Wang Ping (王蘋) was also positive about the court's move.
"If this lawsuit was filed 10 years ago, the judge would simply have ruled against gay marriages," Wang said. "But the fact that the judge wants to seek a constitutional interpretation shows that the judge has a more open mind."
She added that Article 982 of the Civil Code only stipulates that a marrying couple should register their marriage in writing, with signatures by two witnesses.
"It doesn't specifically say that a marrying couple should consist of one man and one woman, and therefore does not prohibit two men or two women from registering their marriage," she said.
Taiwan LGBT Family Rights Advocacy secretary-general Wu Shao-wen (吳紹文) was more critical of the court's decision.
"Despite promises to enhance human rights protection, government officials have not done anything concrete on the issue of gay marriages, using 'waiting for a social consensus' as an excuse," Wu said in a press statement.
"Surveys on the issue show that more than 50 percent of the public support legalizing same-sex marriage, and the support rate rises to more than 70 percent among respondents under the age of 30. These figures show that legalizing gay marriages is already widely accepted by the public."
He said that despite strong opposition from the conservative religious sector, many Western countries have granted some form of recognition to gay coupless.
"It's time for government officials to seriously face the issue," he said.
Comments will be moderated. Keep comments relevant to the article. Remarks containing abusive and obscene language, personal attacks of any kind or promotion will be removed and the user banned. Final decision will be at the discretion of the Taipei Times.