Cafe Philo forum still going strong
People around the world seem to take Friday night as a cue to go clubbing, sing in KTVs or dine out. However, where does one go if one is looking for something a little more cerebral?
In comes "Cafe Philo a Taiwan," a forum hosted at Cafe Philo every Friday night, supported and continued by the dedication of the speakers and staff recording and editing a range of philosophical talks.
The forum was started by Fu Jen Catholic University philosophy professor Shen Ching-kai (沈清楷). The 42-year-old Shen said it began when the owner of Cafe Philo and Democratic Progressive Party (DPP) Legislator Cheng Li-chun (鄭麗君), wanted to promote a forum in which the voice of the common people may be heard.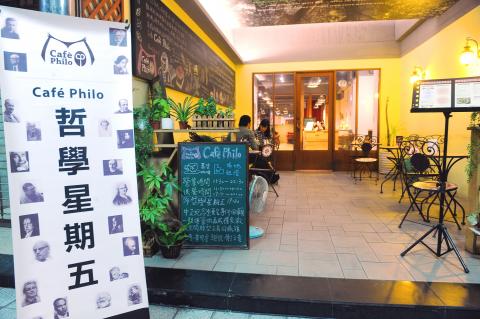 A sign for the weekly Friday night philosophy forum "Cafe Philo a Taiwan" is displayed on the patio of Cafe Philo near the Shandao Temple MRT station in Taipei on Nov. 9.
Photo: Chu Pei-hsiung, Taipei Times
Shen and Cheng, a former head of the National Youth Commission (NYC), met in Belgium when Shen was studying for his doctorate. Cheng later became the director of the Youth Synergy Foundation, where Shen had started working on his return to Taiwan.
"[Cheng's idea] made me think of Gabriel Marcel's 'Friday Evenings' philosophical discussion groups," Shen said.
That gave birth on Aug. 13, 2010, to the Taiwanese version of Marcel's "Friday Evenings," choosing suicide as the first topic of discussion.
Shen has continued to host the forums after switching to teaching at Fu Jen.
"There are a lot of people in other foundations that are very curious as to how we are able to maintain a forum for two years without pause or break aside from the short period when Cafe Philo closes for the Lunar New Year," Shen said with a small laugh, saying there were not really any special tricks.
It is just a group of volunteers sitting around to chat in their spare time, Shen said, adding: "There isn't any pressure, and we don't even have to score ourselves on effectiveness."
Pointing to about 10 volunteers who play the role of hosts, camerapeople, record keepers, editors and even accountants, Shen said that some of the volunteers were his younger classmates, and some were frequent visitors to "Friday Evenings" and had simply come to help.
There are still people in Taiwan who are a bit naive and still think simply, Shen said, describing the volunteers.
When asked if he included himself in that group, Shen laughed and said: "Of course."
Shen said that funding for the forum came from friends who gave small sums of between NT$1,000 and NT$3,000, adding that he sometimes put in a little himself.
Someone donated more than NT$20,000 a while ago, and that was enough to tide the forum over for two or three months, Shen said, adding that although others had promised they would pay for whatever the forum did, "we didn't really dare do anything on such a grand scale; we just needed a tiny bit of funding."
Commenting on the forum's style, Shen said he usually started the discussions with the phrase: "What's interesting is that ..."
However, Shen's forums usually avoid popular topics. He said the forum was not an elite gathering, but rather a place where average people could express their thoughts, citing a discussion the forum had on the months-long strike by workers at Hualon Corp that started in June.
Some talked about the process of the strike, and some talked about their personal experiences — of how family members were unable to receive their pensions upon retirement, Shen said.
To put it simply, Cafe Philo a Taiwan is simply a gathering place for those who want to get things off their chest and for people looking for something different to do on Friday evenings, Shen said.
"We are able to pool our minds and keep things simple, which is why it works," Shen said, adding that the forum has gained enough momentum to start making a voice for itself outside the cafe, on the streets in opposition to certain policies, such as the Kuokuang chemical plant, monopolization of the media and the Miramar Resort Village project.
And it keeps on growing stronger, Shen said.
Comments will be moderated. Keep comments relevant to the article. Remarks containing abusive and obscene language, personal attacks of any kind or promotion will be removed and the user banned. Final decision will be at the discretion of the Taipei Times.