FEATURE: Foreign college students volunteer in national parks
Walking in the high mountains and breathing the fresh air, a group of foreign college students enjoyed a rare opportunity to experience Taiwan in a way that few tourists can. They are on a two-month program that allows them to stay for free in dormitories operated by the Forestry Bureau, while volunteering in Taiwan's forest recreation areas.
"Even before I leave Taiwan, I've already started to miss it," said Maya Le of Vietnam, one of the 16 college students who participated in what the volunteers called the "insightful volunteer-tourism" program from July 1 to Aug. 31 through the global youth organization AIESEC.
Taiwan has long been noted for its food culture, but during her stay, what impressed Le the most was its "breathtaking" scenery, the 20-year-old English major said.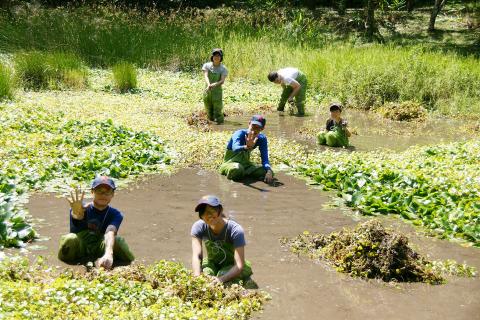 International student volunteers — in Taiwan on a two-month program that allows them to stay for free in dormitories operated by the Forestry Bureau —clean up a pond in an undated photograph.
Photo provided by the Forestry Bureau
"I have fallen in love with the mountains," Le said, adding that she used to be a city girl, but her stay in Taiwan has convinced her to spend more time in nature.
The Council of Agriculture's Forestry Bureau started the volunteer program in 1996 and since then has recruited about 1,500 volunteers to work as tour guides across the country. However, this year is the first time the program has been opened to foreign youths.
"We would like to attract more young people to join the effort to maintain the forests and at the same time, promote Taiwan's nature," said Weng Li-hsin (翁麗芯), a section chief at the bureau.
This year, 16 foreign and 34 local volunteers have been recruited. They were assigned to eight different district offices of the bureau and were asked mainly to do manual labor. Part of their work includes learning from experienced volunteers to help the bureau maintain the forest recreation area, organize summer camps and sometimes give guided tours.
As part of the program, all the young volunteers were encouraged to post articles and photographs of their experiences on the Internet with the aim of promoting tourism in Taiwan, especially its forest recreation areas, to overseas visitors, Weng said.
Taiwan attracted more than 6 million foreign visitors last year — a record number for the country — but only one-fifth of the tourists visited its 18 forest recreation areas, according to statistics. About 60 percent of the visitors were from China, while those from the US and Europe accounted for less than 10 percent, statistics showed.
Weng said she wanted the volunteers to spread the word so that more people around the world, as well as in Taiwan, would know about Taiwan's other side: its rich natural environment.
So far, foreign volunteers' blogs have attracted about 30,000 views.
According to Forestry Bureau Director-General Lee Tao-sheng (李桃生), the program has received great feedback. The bureau is planning to not only continue it, but to expand the project next year, in terms of the number of volunteers or their service hours.
It will serve as a foundation for other similar projects, and the bureau will gather all participants' opinions and use them to improve any future activities, he added.
Describing the program as "successful and rewarding," Lee said it was one of the best ways to experience the beauty of Taiwan, not just the landscape, but also the local culture and friendliness of Taiwanese.
At a farewell party for the volunteers, Cuong Dao of Vietnam said his Mandarin had greatly improved over the past 60-odd days, which is another bonus.
Dao said he chose to volunteer in Taiwan over Malaysia or Indonesia because he wanted to improve his Mandarin.
"I want to be a tour guide in the future, so this volunteer job is like my dream job," he said.
Other volunteers also enjoyed their stay in Taiwan, making good use of their time by exploring the country in various ways.
Some went cycling along the east coast. Others went camping by the 3,310m-high Chia Ming Lake. Still others made cultural excursions to local temples and historic sites.
It was like "playing and working at the same time," they said.
"I'm really impressed by Taiwan and everything here," said Agnieszka Kurzeja of Poland, who said she was in love with Asian culture and had learned a lot about Taiwan during the program. "I think it even surpassed my expectations."
Olga Timakova of Russia said that she was already planning to visit Taiwan again for at least several weeks with her friends, because she wants to participate in Taiwanese festivals.
"There is so much worth to see and so much worth to do here," she said.
Comments will be moderated. Keep comments relevant to the article. Remarks containing abusive and obscene language, personal attacks of any kind or promotion will be removed and the user banned. Final decision will be at the discretion of the Taipei Times.