Premier addresses Lanyu worries
HIGH RADIATION: A panel from Japan did a study of soil samples from a school on the island and found abnormally high levels of radioactive iodine in them
The government will look into issues raised by environmentalists and residents of Lanyu (蘭嶼) — also known as Orchid Island — over abnormally high radiation levels alleged to be found on the island, which has been used as a nuclear disposal site since 1980s, Premier Sean Chen (陳冲) said yesterday.
Chen said he had talked to Atomic Energy Council Minister Tsai Chuen-horng (蔡春鴻) about the issue on Monday after seeing it in news reports.
A group of Japanese academics recently said that soil samples from Lang-Tao Elementary School on Lanyu showed abnormally high levels of radioactive iodine — well above natural background levels and 30 times higher than those recorded in other areas of the campus.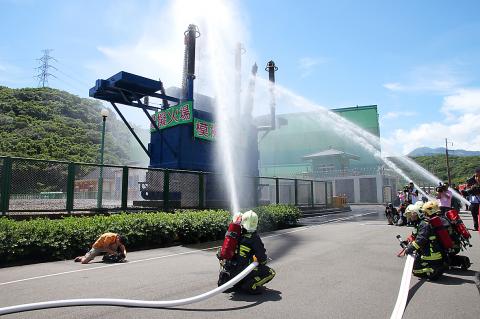 Firefighters practice putting out a transformer fire during a drill at the Jinshan Nuclear Power Plant in New Taipei City's Shihmen District yesterday.
Photo: CNA
School principal Hu Lung-hsiung (胡龍雄) commissioned the group of Japanese professors of medicine and anthropology to conduct the study amid long-term concern among residents about exposure to high levels of radiation from the nuclear waste stored on the island.
The study was expected to be completed and published within a month.
Chen, who was attending a security drill at the Jinshan Nuclear Power Plant in New Taipei City's (新北市) Shimen District (石門), told reporters he had asked the council to verify the information provided by the Japanese experts.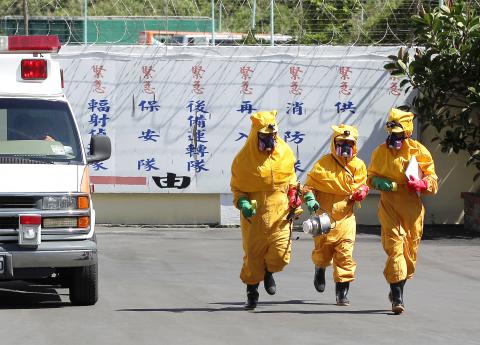 Employees dressed in protective suits take part in a safety drill at the Jinshan Nuclear Power Plant in Shihmen District, New Taipei City, yesterday.
Photo: Pichi Chuang, REUTERS
After the inspection, Chen said that the government had applied "stringent stress tests" during the exercise to ensure the plant's safety and security under all types of natural disaster scenarios.
Chen also addressed the issue of how much nuclear energy should account for the nation's energy sources, saying it was a "matter of choice," adding that Taiwanese remain divided over whether the country should move toward a low-carbon society or a nuclear-free homeland.
"No matter what we choose, our unwavering stance is to enhance the safety of nuclear power generation in the country," Chen said.
Comments will be moderated. Keep comments relevant to the article. Remarks containing abusive and obscene language, personal attacks of any kind or promotion will be removed and the user banned. Final decision will be at the discretion of the Taipei Times.