Final analog broadcast marks full switch to digital
The transition to digital television broadcasting was completed yesterday with the transmission of analog signals for terrestrial TV being officially phased out nationwide.
"We are witnessing a historic moment," Premier Sean Chen (陳冲) said at a changeover ceremony hosted by the National Communications Commission (NCC) in Taipei.
In a four-phase process that started on May 7, northern Taiwan was the last area to finally make the transition from analog to fully digital wireless high-tech TV broadcasting.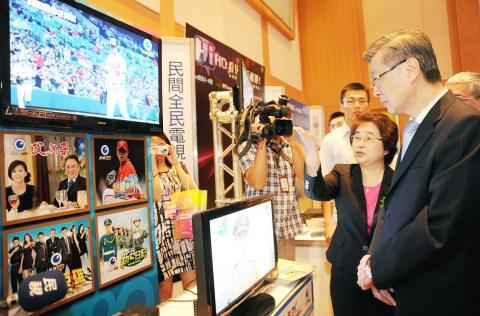 Premier Sean Chen, right, and National Communications Commission chairperson Su Heng, second right, watch a TV program in high definition at a ceremony in Taipei yesterday as the nation formally completed its transition to digital TV broadcasting.
Photo: Liu Hsin-de, Taipei Times
Turning off the analog terrestrial TV transmission meant that "a digitalized era of high-definition TV has come," Chen said, adding that challenges of digitalizing cable TV and improving the quality of featured content still lie ahead.
The representative of the Association of Terrestrial Television Networks, Li Tai-lin (李泰臨), who is chief executive of China Television Co, said that while digitalization is certainly an improvement to the quality and diversification of terrestrial TV broadcasting, there is still pressure for the terrestrial TV companies to provide high quality content for the increased bandwidths.
According to commission Chairperson Su Herng (蘇蘅), the digitalization of TV broadcasts is a ongoing trend unfolding rapidly around the world.
Germany and Switzerland have already made the switch, the US did so in 2009, the UK began in 2007 and is scheduled complete the process this year, while Asian countries such as Japan completed the move last year and South Korea is scheduled to be finished by the end of the year, Su said.
Although improving the quality of domestic TV programs may be a tough challenge, the commission has requested that the companies provide at least one to three hours of high definition content per day in the initial stage, Su said.
TV companies will also have to consider how best to improve their content to meet the interactive features of digital TV, Su added.
Comments will be moderated. Keep comments relevant to the article. Remarks containing abusive and obscene language, personal attacks of any kind or promotion will be removed and the user banned. Final decision will be at the discretion of the Taipei Times.