Exhibition highlights deep sea shell treasures
Seashell enthusiasts can now see the world's most valuable and the world's largest shells, including the Rumphius' Slit Shell and the giant clams Tridacna gigas — in close detail — along with many other seashell species and shell specimens at an exhibition being hosted at a facility in southern Taiwan.
The Tsai-liao Fossil Museum in Greater Tainan last week launched an exhibition of seashells allowing visitors to view some rarely seen marine forms from more than 300 specimens lent by Taipei's National Taiwan Museum (NTM).
The exhibition which runs until Sep. 23, also reveals many of seashells' natural mysteries to the public — such as how they capture the sound of the ocean and how every shell ends up with its own exquisite and unique pattern.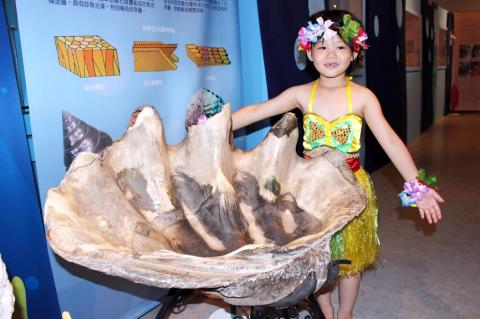 A child displays the world's largest "giant clam" on Saturday to promote an exhibition at the Tsai-liao Fossil Museum in Greater Tainan
Photo: Lin Meng-ting, Taipei Times
Aside from having a close-up opportunity to observe a multitude of seashells, visitors to the exhibition can also finger the crusty surfaces of a diverse range of sea creatures.
One of the exhibition's greatest draws is a Rumphius' Slit Shell, the most precious and rarely found kind of shell in the world, which is valued at about NT$380,000.
"Inhabiting deep waters, the Rumphius' Slit Shell is the world's most expensive seashell mainly because of its scarcity, with its shell resembling the shape of a round timepiece and exhibiting long crevices and flame-like patterns on the surface," said Lai Ching-yang (賴景陽), a member of the NTM's collections and preservation commission.
Lai added that in 1970 a Taiwanese fisherman dredged up a Rumphius' Slit Shell off the country's southeast coast, which was only the fourth one of its kind to have been found worldwide. However, the rare object was procured by an aquarium in Japan at the time, he said.
That makes the Rumphius' Slit Shell, which is displayed and preserved in Taiwan, a fairly rare and precious marine object, Lai added.
Other focal points at the exhibition include a giant clam, Tridacna Gigas, the world's largest shell species that can reach up to 1.4m, Lai said, along with a handicraft item made of more than 20,000 small seashells in the shape of the NTM.
Translated by Stacy Hsu, Staff Writer
Comments will be moderated. Keep comments relevant to the article. Remarks containing abusive and obscene language, personal attacks of any kind or promotion will be removed and the user banned. Final decision will be at the discretion of the Taipei Times.