Book show 'pops up' tomorrow
INTERACTIVE ART: The exhibition will display 160 rare and odd works with the intention of educating people about an unusual and instructive art form
An exhibition of rare pop-up books will open in Taipei tomorrow with the aim of showing visitors that such books are also works of art, organizers said yesterday.
The exhibition will showcase 160 rare pop-up books ranging from the longest pop-up book in the world — an 8.2m long volume detailing the history of the Czech Republic — to a 4cm wide miniature version of Anne of Green Gables.
Other items that will be on display include books that open to a 1.4m long Titanic, a 1.5m tall space shuttle and a Taiwanese handpuppet theater.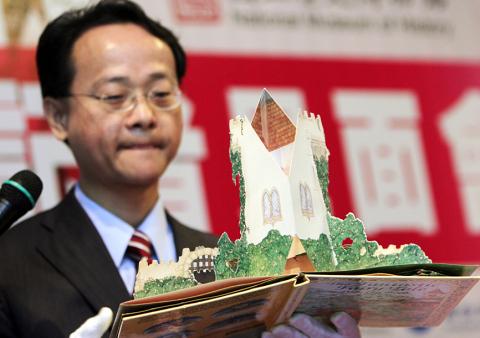 Collector Michael Yang demonstrates his first pop-up book at a press conference in Taipei yesterday for the "Stunning Pop-up Books" exhibition at the National Museum of History.
Photo: CNA
The exhibition will also feature a set of books by the US fashion quarterly Visionaire, which has produced pop-ups by contemporary artists such as China's Cai Guoqiang (蔡國強), who is known for his gunpowder drawings and explosive works.
"Our biggest goal is to send the message that pop-ups are not just ordinary books or children's books, but interactive visual art," said Michael Yang (楊清貴), curator of the event and a private collector who supplied the exhibits.
"Every pop-up book is assembled by hand, which means that each one is a unique piece of art," Yang said.
The interactive nature of pop-up books also makes it easy for readers to absorb the knowledge and information contained therein, he added.
Chang Yui-tan (張譽騰), director of the National Museum of History, where the exhibition will be held, agreed that pop-ups are unique and more than just books.
The museum hopes to show how pop-up books have evolved over the past 700 years, from a resource that explained astronomy, anatomy and mechanics to spinoffs of popular movies such as Titanic, Star Wars and Harry Potter, he said.
Matthew Reinhart, a US pop-up book artist who has created many award-winning books such as Star Wars: A Pop-up Guide to the Galaxy, and Hong Kong pop-up artist Liu Sijie will also attend the exhibition to discuss the creative processes with visitors.
A total of 1,000 elementary-school children will be invited to attend the exhibition for free and workshops will be held to show teachers how to use pop-up books as a learning resource.
The exhibition will run until Sept. 16.
Comments will be moderated. Keep comments relevant to the article. Remarks containing abusive and obscene language, personal attacks of any kind or promotion will be removed and the user banned. Final decision will be at the discretion of the Taipei Times.