Filial son's act of love for mother causes media frenzy
A filial son, whose act of carrying his mother to hospital wrapped in a large piece of cloth tied around his neck has received widespread media and public attention, apologized on Monday for taking up so much press coverage.
A picture showing a middle-aged man holding his infirm mother while sitting in the Chi Mei Medical Center in Greater Tainan, has been widely circulated online since Friday
Many netizens said they were touched by the scene. Local media outlets subsequently picked up the story and some netizens launched a cyber manhunt to discover the identity of the man in the photograph.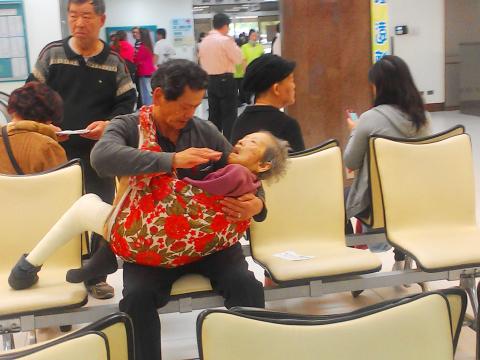 A man carries his mother, wrapped in a blanket because she was too frail to sit in a wheelchair, to a hospital in Greater Tainan on Friday. The image received more than 19,000 hits on Facebook within one day of it being posted.
Photo: courtesy of Chou Yu-tung
The man was later revealed to be 61-year-old Ting Tsu-chi (丁祖伋), a retired investigator with the Ministry of Justice's Tainan bureau.
Former colleagues were quoted in local media reports as saying they were not surprised to learn that the man in the picture was Ting as he was known for being filial. He even passed on a promotion because he would have had to relocate to Taipei City and so be unable to look after his mother.
Ting, who filed for early retirement in 2007 to take better care of his mother, on Monday expressed gratitude for the expression of public concern, while declining to accept the praise voiced in the media.
"I am not as filial and honorable as described in the news reports, and I'm sorry for taking up so much media coverage over the past few days," said Ting, whose father passed away in 2007.
Ting said his 85-year-old mother has a history of heart disease and high blood pressure and required 24-hour care.
When asked why he carried his mother to hospital, Ting said he was worried that she would be in uncomfortable sitting in a wheelchair as she recently fractured her leg.
"It wasn't too strenuous to carry my mother for a few minutes, so I did," Ting said, adding that he did not expect it to generate so much public attention.
Declining offers of help from netizens, Ting was previously quoted by Chi Mei Medical -Center Public Affairs Division director Wu Cheng-lung (吳政隆) as saying he and his mother did not require any assistance. Ting said that such resources would could be better employed helping someone truly in need.
"It was the first time I carried my mother using a piece of cloth, and it was also the last time," Ting added on Monday. "In the future, I will call for an ambulance to take her to the hospital and borrow a hospital bed for her."
Translated by Stacy Hsu, Staff Writer
Comments will be moderated. Keep comments relevant to the article. Remarks containing abusive and obscene language, personal attacks of any kind or promotion will be removed and the user banned. Final decision will be at the discretion of the Taipei Times.