PRESIDENTIAL ELECTION: DPP presidential candidate Tsai Ing-wen's election platform
Economy/trade
■ Promote an employment-oriented and knowledge-based economy rather than a GDP-centered economy.
■ Develop local economic sectors with local historical and cultural characteristics to create jobs.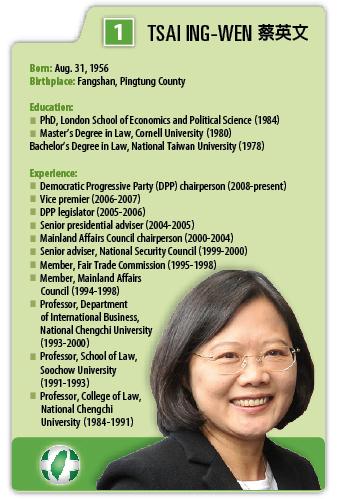 ■ Seek to join the Trans-Pacific Partnership and negotiate with major trade partners on signing free-trade agreements.
■ Readjust Taiwan's industrial structure and create new and strategically important sectors.
■ Base salaries should be adjusted regularly according to productivity and prices.
■ Improve the working conditions and rights of temporary workers, though government agencies should not be allowed to hire temporary workers.
Cross-strait relations
■ "Reserving the right to disagree while seeking harmony and seeking agreement in a spirit of conciliation" is the central theme of Tsai's China policy.
■ Advocate a "Taiwan consensus," which Tsai says is a democratic process that excludes no outcomes. She refuses to recognize the existence of the so-called "1992 consensus."
■ Establish a cross-strait framework to forge peaceful and stable interaction that is strategically and mutually beneficial.
■ Carefully review the Economic Cooperation Framework Agreement (ECFA) and proceed with negotiations under the WTO framework.
■ Conduct a thorough review of Chinese investment and encourage local businesses to focus activities and job opportunities in Taiwan.
■ Establish a sound supervisory mechanism to ensure fair competition and the transparency of Chinese banks in Taiwan.
■ Promote civil society exchanges across the Taiwan Strait.
National security/foreign policy
■ Engage with the international community by upholding the universal values of freedom, democracy and human rights.
■ Strengthen the strategic partnership with the US.
■ Strengthen cooperation with Asia-Pacific countries, Japan in particular, to maintain regional stability.
■ Develop a strong military capability to safeguard Taiwan's peace and stability.
■ Reaffirm Taiwan's advantage as a maritime nation, improve management of maritime resources and promote multilateral dialogue.
■ Advance foreign diplomacy using Taiwan's soft power to attract international support.
Finance/taxation
■ Establish a macroeconomic early-warning system for financial crises.
■ Establish a supply chain providing short, medium and long-term funding to satisfy corporate needs.
■ Prevent overcentralization and monopolization of financial institutions to protect consumer rights.
■ Cut the national debt of NT$1.3 trillion (US$42.9 billion) in half in four years and achieve fiscal balance in eight years. Halt the growing national debt-to-GDP ratio to achieve "zero debt growth."
■ Introduce a property transaction income tax based on real transaction prices.
■ Replace tax incentives with investments or funding to improve industrial competitiveness.
■ Expand the fiscal power of local governments and adopt a fairer distribution of national tax revenue among local governments.
■ Introduce a "green tax" system.
Government reform
■ Lower the threshold for constitutional amendments and referendums.
■ Reform the legislative electoral system.
■ Enact a proposed political parties bill and prohibit parties from operating and investing in businesses, directly or indirectly.
■ Advance transitional justice by restoring historical facts, releasing historical documents and returning illegally seized party assets.
■ The president would take a primary role in judicial reform, which would highlight the protection of human rights, civic participation and a mechanism for the removal of judicial officials.
Agriculture
■ Advocate a "new agriculture movement" to promote the importance of agriculture and the sustainability of farmland.
■ Improve food self-sufficiency and ensure 120-day emergency stockpiles of major agricultural produce.
■ Establish a NT$100 billion agricultural fund to encourage young people with technological expertise and innovative marketing skills to work in the sector.
■ Establish traceability and a place-of-origin labelling system, and promote organic agriculture.
■ Minimize supply-and-demand imbalances with regular monitoring and countermeasures, including a "95 percent mechanism."
■ Increase subsidies to cover as much as half of the cost of agricultural produce damaged in natural disasters.
Technology
■ Development of technology should include cultural and innovation elements to promote the development of local industries and improve public, environmental and food safety.
■ Advocate a "nuclear-free homeland" initiative to phase out nuclear power by 2025 by decommissioning the nation's three nuclear power plants and preventing the Fourth Nuclear Power Plant from becoming operational.
■ Improve power-generation efficiency and use alternative energy sources.
■ Advance an energy tax, eliminate subsidies for industries with high carbon emissions and high energy consumption.
■ Adjust industrial policies that have over emphasized northern Taiwan to create employment nationwide.
■ Encourage state-owned and private businesses to take the lead in research and development instead of the government.
■ Establish a sustainable green economy based on "clean technology," encouraging energy conservation and carbon reduction.
■ Develop local research and development capabilities for domestic military technology.
Education
■ Implement a 12-year compulsory education program.
■ Ensure education quality and equal opportunities.
■ Establish a public childcare and child education system.
■ Adjust the ratio of public and private higher-education institutions with a long-term goal of more than half of students attending public institutions.
■ Promote smaller classes, schools and school districts in elementary and secondary education.
■ Adjust curricula to highlight local languages, art, history and literature in the spirit of holistic education.
■ Promote recurrent education and lifelong learning.
Environment
■ Enact national land planning and national land restoration laws, and conduct a complete assessment of national resources.
■ Restore the ecological path of the Central Mountain Range and develop Aboriginal community economies.
■ Develop sustainable agriculture based on environmental preservation.
■ Integrate the management of water, land and forestry resources.
■ Increase civic participation in the environmental impact assessment system.
■ Reduce industrial pollution and carbon emissions.
■ Promote protection biological diversity and related education..
■ Strengthen government preparation in the areas of disaster relief, mitigation and prevention.
Culture
■ Advocate a decentralized policy of cultural development.
■ Preserve Taiwan's cultural diversity, in particular the languages of various ethnic and Aboriginal groups, by enacting a cultural development standard law to protect the constitutional rights of different cultural groups.
■ Increase the cultural budget and investment to develop local professionals and promote cultural creative industry.
■ Develop the art and culture industry to create employment and improve quality of life.
Social welfare
■ Allocate public funding of at least NT$40 billion over four years to establish a stable system for long-term care and a centralized task force reporting directly to the president.
■ Train more local caregivers, rather than hiring more from abroad, to create more job opportunities.
■ Ensure that unemployed people receive government subsidies and provide workers who are forced to take unpaid leave with short-term subsidies.
■ Implement healthcare reform.
■ Encourage a higher birthrate by providing women-friendly and family-friendly support and more public childcare facilities.
■ Provide rent-only social housing for the underprivileged and people with low incomes.
Ethnicity
■ Reconstruct national history from multi-ethnic viewpoints and embrace Taiwan's rich cultural diversity in all public policies.
■ Grant various languages the status of national language and combat ethnic discrimination.
■ Establish a new partnership with Aborigines and implement Aboriginal autonomy that would guarantee Aborigines management rights over their property and fiscal revenues.
■ Advance a discrimination-free policy on new immigrants and ensure their civil rights, as well as the rights of their children to health, education and employment.
Gender
■ Increase women's participation in politics with female ministers and representatives to account for no less than one-third of the total number.
■ Promote a public childcare system.
■ Create women-friendly living spaces and work environments.
■ Democratize families by promoting gender equality.
■ Respect the rights of people of all sexual orientations.
■ Implement the concept of gender mainstreaming by assessing the different implications for men and women of all policies and legislation.
Youth
■ Provide public dormitories for university students and subsidies for economically challenged students.
■ Encourage universities to collaborate with local businesses to create job opportunities for young people.
■ Promote entrepreneurship among young people by providing public mortgages and a government-driven platform as an intermediary between entrepreneurs and businesses.
Others
■ "Decompress" Taipei and the congested north by deploying new government facilities, institutions, corporate headquarters and innovative industries in central and southern Taiwan.
■ Transform Taipei by funding large-scale urban redevelopment programs and develop key cities along the high-speed rail line into regional hubs.
■ Allocate more funding and personnel, establish a comprehensive system for animal rescue, shelters and adoption, implement strict controls on illegal breeders and animal abandonment, and promote life education.
Comments will be moderated. Keep comments relevant to the article. Remarks containing abusive and obscene language, personal attacks of any kind or promotion will be removed and the user banned. Final decision will be at the discretion of the Taipei Times.