2012 ELECTIONS: Ma opens Taichung campaign HQs
President Ma Ying-jeou (馬英九) yesterday stepped up his re--election campaign in Greater Taichung by opening two campaign headquarters in the area, and expressed his confidence in winning by a large margin in this pivotal battleground in the presidential election on Jan 14.
Opinion polls show the race with Democratic Progressive Party (DPP) Chairperson Tsai Ing-wen (蔡英文) is too close to call.
Greater Taichung, a special municipality established by the merger of Taichung City and Taichung County, is considered to be a crucial swing area in the January presidential and legislative elections.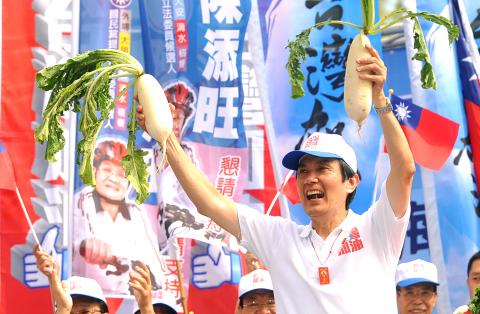 President Ma Ying-jeou holds up two white Chinese radishes — a symbol of good -fortune — at the opening of his election campaign office in Greater Taichung's -Shanhaitun region yesterday.
Photo: Liao Yao-tung, Taipei Times
Despite being a traditional Chinese Nationalist Party (KMT) stronghold, the party's performance in the mayoral election last year sparked concern within the pan-blue camp as the DPP's then-mayoral candidate, Su Jia-chyuan (蘇嘉全), lost to Taichung Mayor Jason Hu (胡志強) by only a small margin.
Su is now running on the same ticket with Tsai.
The official establishment of Ma's campaign headquarters in Fongyuan District (豐原) and downtown Taichung attracted thousands of supporters.
"We received over 500,000 votes in Taichung County in the 2008 presidential election, 150,000 votes more than the DPP, and I am certain that passion endures and will help me win this election," Ma said to the crowd in Fongyuan.
KMT officials and local heavyweights from different factions attended the ceremonies. Former Taichung County commissioner Chen Keng-chin (陳庚金), former KMT legislator Chen Jie-ju (陳傑儒) and former Taichung County Council speaker Lin Min-lin (林敏霖) are all set to join the campaign team and stump for Ma.
The KMT is hoping to isolate People First Party (PFP) Chairman James Soong's (宋楚瑜) supporters in the area by focusing on party unity. Soong confirmed his run for the presidency on Tuesday by sending more than 355,000 signatures on his presidential petition to the Central Election Commission.
Meanwhile, Ma launched his home-stay campaign strategy in Greater Taichung on Friday night when he stayed at the house of farmer Chiang Wen-sheng (江文盛). His first home stay attracted much media coverage because Chiang is the brother of former National Security Council deputy secretary--general Antonio Chiang (江春男) under the former DPP administration.
Yesterday morning, Ma had breakfast with Chiang Wen-sheng's family and then visited the family's orange farm.
When asked about his interaction with Ma, Antonio Chiang said he returned to Fongyuan on Friday night to meet with Ma as a courtesy, but the two did not discuss politics.
"My political views and opinions on current issues are public knowledge," said Antonio Chiang, currently a political columnist for the Chinese-language Apple Daily.
Chiang Wen-sheng is also the uncle of former Government Information Office minister Johnny Chiang (江啟臣).
Johnny Chiang, who is a KMT legislative candidate in the area, presented Ma with a lucky charm, a gift he said was made by a group of grandmas who wished the president all the best in the election and trusted him to bring peace and prosperity to the nation.
Wearing the charm as he campaigned for party candidates throughout the day in Greater Taichung, Ma said such home stays helped him better understanding local issues, and he promised to promote the continued development of the municipality if re-elected.
"Living a safe and peaceful life is the basic wish of all Taiwanese, and I promise to take this good luck charm from local grandmas and dedicate myself to maintaining peace and prosperity throughout Taiwan," he said.
Comments will be moderated. Keep comments relevant to the article. Remarks containing abusive and obscene language, personal attacks of any kind or promotion will be removed and the user banned. Final decision will be at the discretion of the Taipei Times.