'Taiwan independent since 1989': Lee
SHAKY FREEDOM: Singapore's Lee Kuan Yew made the assertion at a global event last week, adding that Taiwan's independence would be 'unable to resist the pull of China'
Singapore's founding father Lee Kuan Yew (李光耀) made waves last week when he told a conference in Singapore that he believed Taiwan has been independent "from 1989 to the present."
Addressing the closing dinner of the two-day Singapore Global Dialogue on Thursday evening, the 88-year-old, who stepped down from government earlier this year after a poor showing by his People's Action Party in general elections in May, did not elaborate on why he had chosen 1989 as the year Taiwan became "independent."
Some Taiwanese media have speculated that the former Singaporean prime minister may have regarded the ascension of former president Lee Teng-hui (李登輝) to the Presidential Office the previous year as a turning point.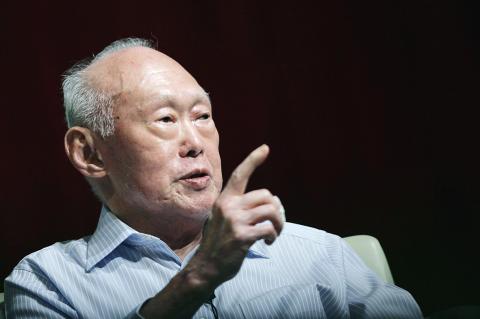 Former Singaporean prime minister Lee Kuan Yew makes a point during the LKY School of Public Policy seventh anniversary dialogue session in Singapore on Sept. 14.
Photo: Reuters
Despite that view, Lee Kuan Yew said that Taiwan's "independence" would be unable to resist China, as he did not "see Taiwan being able to resist the pull of the mainland [China], with or without American help," Singapore's Chinese-language newspaper Lianhe Zaobao reported.
No amount of security guarantees by the US or arms sales to Taiwan could counter the great pull of China, he said, because unification remains "an unshakeable goal" for the leadership in Beijing.
"[There will] come a time when [even] the Seventh Fleet cannot intervene because of Chinese aircraft carriers," he said, referring to the refurbished Soviet-era Varyag, which held its first sea trial last month and is expected to be officially launched sometime next year.
China also has plans to build its own nuclear-powered aircraft carriers, which analysts say could be launched by 2020.
"China has always considered Taiwan as a part of China and it wants China to be reunified [sic]," he said. "The fact that Taiwan was independent from 1989 to the present does not make any difference."
Asked for comment, the Chinese Nationalist Party (KMT) and the Democratic Progressive Party (DPP) would not speculate on the reasons behind Lee's assertion that Taiwan is independent, choosing to focus on arms sales instead.
DPP spokesperson Liang Wen-jie (梁文傑) said that Taiwan had been able to sustain the "status quo" since 1949 because the nation maintained certain defensive capabilities.
If China attempted to take over Taiwan by force, Liang said, it would pay a huge price.
Liang added that if Taiwan, much like Hong Kong or Macau, did not have certain defensive capabilities, it would have been impossible to maintain its independent sovereignty and democratic system for 60 years.
Meanwhile, KMT spokesperson Lai Su-ju (賴素如) said that US arms sales to Taiwan would not affect cross-strait relations and that President Ma Ying-jeou's (馬英九) administration's cross-strait policies of maintaining the "status quo" across the Taiwan Strait under the so-called "1992 consensus" remained unchanged.
Ma has made it clear that the government will continue the "three noes" policy of no independence, no unification and no use of force in handling cross-strait relations.
Additional reporting by Mo Yan-chih and Rich Chang
Comments will be moderated. Keep comments relevant to the article. Remarks containing abusive and obscene language, personal attacks of any kind or promotion will be removed and the user banned. Final decision will be at the discretion of the Taipei Times.