Taipei serves up free 'luroufan' to set record straight
The Taipei City Government yesterday prepared and dished out more than 1,000 bowls of braised pork on rice free of charge in an attempt to set the record straight about the Taiwanese delicacy after the dish's origins were mistakenly attributed to China in Michelin's Green Guide Taiwan.
Known as luroufan, the Michelin guide labeled the dish as an "elemental staple of Shandong [Province] cuisine."
"Today we're here to let everyone know that luroufan is genuine Taiwanese cuisine, a national delicacy, not a 'Shandong-style' dish," Taipei Mayor Hau Lung-bin (郝龍斌) said during a press conference to defend the honor of the dish.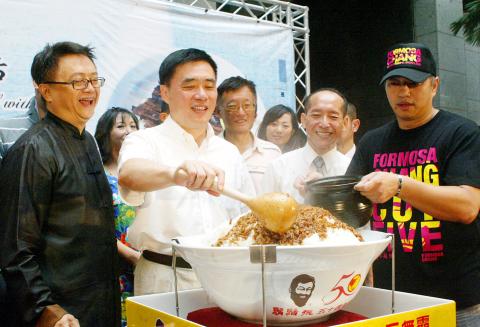 Taipei Mayor Hau Lung-bin, second left, promotes Taiwanese "braised pork rice" at a press conference at Taipei City Hall yesterday.
Photo: CNA
After finding out Michelin listed the dish as originating from Shandong Province in China, Hau wrote to the group's editorial manager Jonathan Gilbert and requested a revision.
Hau wants to have the original text replaced with: "Braised Pork Rice, a true classic Taiwanese street delicacy."
"This satisfying, yet inexpensive Taiwanese traditional savory dish is a meal in itself," Hau wrote in an e-mail dated July 6, along with a short introduction to the Taiwanese dish.
Florent Bonnefoy, Michelin travel guides manager, answered in an e-mail that the group conducts regular updates and revisions to provide accurate information.
"As we hope to have reprints and further editions of our Taiwan Green Guide, we will naturally input the necessary changes and updates," Bonnefoy said in response.
He did not say whether Michelin would change the description.
Liang Yu-hsiang (梁幼祥), a gourmet reviewer in Taiwan, also presented written proof from the Beijing-based Chinese Food Culture Research Association at the press conference, which said "there is no such food item in Shandong."
"It is definitely a local delicacy," Liang said. "Maybe there are nuances [in names] between northern and southern Taiwan, but it has nothing to do with Shandong."
The Taiwanese public also found it hard to accept that China was given credit for a Taiwanese dish.
"I have been enjoying this traditional snack food all my life, and it's very Taiwanese to me," a woman standing in line for the free luroufan said.
The city blamed the mix-up on the first character in the Chinese name of the dish, lu (魯), which is also an alternate name for Shandong Province, where the State of Lu reigned about 2,200 years ago. The city is now urging the public to start using a homonym which means braising (滷), to avoid confusion.
The organizers added that several restaurants and vendors are scheduled to host daylong promotional campaigns.
Comments will be moderated. Keep comments relevant to the article. Remarks containing abusive and obscene language, personal attacks of any kind or promotion will be removed and the user banned. Final decision will be at the discretion of the Taipei Times.