Local residents pan 'Manhattan Riverside' plan
NOTICE? The group said they did not know about public hearings on the project in 2007 and 2009 because the notices were printed in a Tainan paper
A group of residents from New Taipei City (新北市) who face imminent eviction lodged a complaint yesterday with the Control Yuan against the municipal government, demanding an investigation into possible illegal profiteering concerning an urban renewal plan.
"We were not informed until April that our houses would be demolished in December," said Chen Wei (陳瑋), a resident of Erchong Borough (二重里) in Sanchong District (三重).
Chen said they knew nothing of the municipality's Tamsui River (淡水河) "Manhattan Riverside" project, which would include tearing down the buildings on Tayu and Chinhua streets for a road expansion.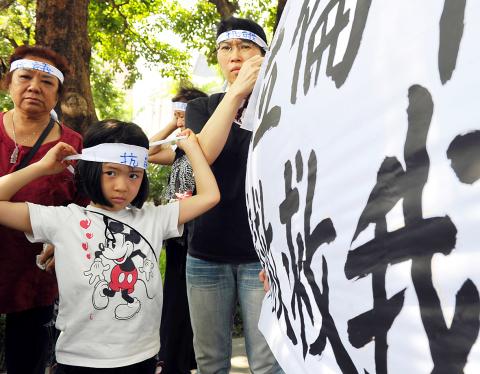 A girl ties on a protest headband outside the Control Yuan in Taipei yesterday as residents of Jinhua and Dayou streets in New Taipei City's Sanchong District protest against the city government's plan to demolish their homes.
Photo: CNA
The residents said they accidentally learned of the plan, while surfing the Internet.
The plan includes an injection of NT$5 million (US$174,000) over five years for river management and refurbishment projects in residential areas located within 1km on both sides of the river
The idea was originally proposed by former Taipei County commissioner Chou Hsi-wei (周錫瑋) and is supported by Chou's predecessor, New Taipei City Mayor Eric Chu (朱立倫), as well as Taipei City Mayor Hau Lung-bin (郝龍斌).
The Taipei City Government is scheduled to hold a public hearing in the middle of this month to explain to residents the nature of the project, which will commence in December.
Two hearings were held — on Dec. 15, 2007, and Aug. 12, 2009 — while Chou was in office, but Chen said most of the residents were kept in the dark.
According to Article 19 of the Urban Planning Act (都市計畫法), government agencies are required to notify residents of an urban renewal project by publishing information about hearings in newspapers before the plans are approved by review commissions.
"The information about the hearings held in 2007 and 2009 were posted online and published in the China Daily News, a local newspaper mainly published in Greater Tainan. How could the government expect we would read that newspaper in Taipei?" Chen said.
An 84-year-old resident surnamed Pan (潘), who has lived in the borough for 45 years, said he did not understand how the government had the right to deprive him of his property without his consent.
"My house was legally built. I have the licenses," he said.
"There is no need to expand the roads because we don't haven any problems with traffic jams," resident Chen Kuang-hui (陳光輝) said, demanding that the Control Yuan look into who will be profiting from the renewal plan.
"For 40 years the area we live in was designated as a 'no construction district' because it is on a flood plain," Chen said. "If that is the case, why is the government now launching a large-scale renewal project?"
Comments will be moderated. Keep comments relevant to the article. Remarks containing abusive and obscene language, personal attacks of any kind or promotion will be removed and the user banned. Final decision will be at the discretion of the Taipei Times.