Jhubei farmers protest land seizure
'PUYU' PLAN: A professor said the land expropriation was disguised to look like a university expansion plan, but was really a land grab for high-tech industry firms
More than 100 farmers from Jhubei City (竹北), Hsinchu County, yesterday demonstrated in front of the Presidential Office against a local government plan to expropriate more than 447 hectares of farmland for a high-tech science park project.
Holding up banners that read "When the government becomes the robber, whom should we trust" and "Defend our homes," more than 100 Jhubei farmers gathered on Ketagalan Boulevard in front of the Presidential Office in Taipei yesterday morning to voice their anger at a project to develop a "Taiwan Knowledge Economic Flagship Park" by expropriating their farmland.
The development project, known as the "Puyu Project" until 2004, was proposed by National Chiao Tung University (NCTU) in 2000 to expand its campus in Jhubei with county government help in acquiring land.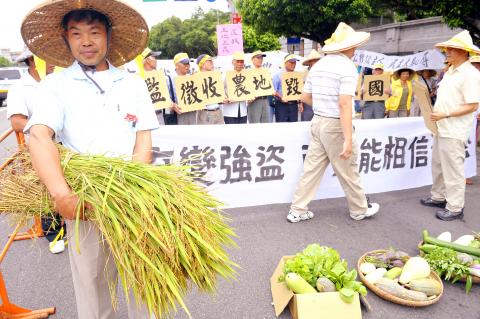 Farmers from Jhubei City in Hsinchu County raise banners and display their produce on Ketagalan Boulevard in Taipei City yesterday to protest a plan to take over 447 hectares of farmland to build a science park.
Photo: George Tsorng, Taipei Times
In 2004, the project was renamed, classified as a "major economic project" and expanded to include an area for the high-tech industry.
Although the project started as a plan to expand NCTU's campus, the Ministry of Education never approved it, so it was gradually turned into a science park development project after several revisions.
"This is purely a development project under the disguise of an NCTU campus expansion plan," said National Chengchi University Department of Land Economics chairman Hsu Shih-jung (徐世榮), who has long been active in movements for farming rights and against land expropriation. "Initiated by the NCTU, the project is apparently not for the purposes of research and teaching. Rather, it is for high-tech companies founded by NCTU graduates."
Donghai Community Development Association chairman Chen Yi-hsu (陳義旭) said the plan was initiated by NCTU, but the Hsinchu County Government would be in charge of expropriating the land and then transferring it to NCTU.
Donghai is the name of one of the communities living on land that the government plans to expropriate for the development project.
Chen said most locals are against the land seizure, but neither the county government nor NCTU officials have listened to them.
"One hundred percent of the members of the Jhubei Puyu Self-Help Association are original residents in the area [to be expropriated]," he said. "However, in the planning committee for the development project, only 30 percent [of the planners] are locals, while 70 percent are either land developers or people who have moved [to Jhubei] from elsewhere."
"The government is using taxpayers' money to obtain privately owned land for high-tech -companies," Chen said.
Jhubei Puyu Self-Help -Association chairman Chiu Hung-chun (邱鴻鈞) said that when the land seizure occurs, more than 3,000 households would be forced to leave.
"Where are we going to stay? Are we going to live at the Presidential Office?" he asked.
"The Chinese Nationalist Party [KMT] should not forget why they were defeated by the Chinese Communist Party," Chiu said. "They were defeated because their policies upset peasants, and therefore the peasants revolted against them."
Taiwan Rural Front spokeswoman Tsai Pei-hui (蔡培慧) said the area produces more than 3.6 million kilograms of rice a year.
"It's a major agricultural area for northern Taiwan; the government should not destroy it in the interest of large corporations," Tsai said.
After the protesters took their petition to the Presidential Office and the Control Yuan, both promised to look further into the issue.
The protesters also announced that more than 1,000 farmers from 12 farming communities currently facing land expropriation would launch an overnight rally in front of the Presidential Office starting on the evening of July 16.
Comments will be moderated. Keep comments relevant to the article. Remarks containing abusive and obscene language, personal attacks of any kind or promotion will be removed and the user banned. Final decision will be at the discretion of the Taipei Times.