Democracy school opens in Taiwan
LOFTY IDEALS: The New School for Democracy, which is chaired by Wang Dan, aims to promote democratic development in Chinese societies
Ahead of commemorations for the Tiananmen Square Massacre this weekend, the New School for Democracy was officially established in Taiwan on Monday by Chinese, Hong Kong and foreign academics who will give talks on democracy via the Internet with the hope of shattering "one-party rule" in China.
Participants in the project said funding would come from private corporations, non-governmental organizations and public donations, adding that the school would focus on Chinese all over the world as potential "students."
Its curriculum will include political science, human rights and legal education, international relations and recognition of political spheres.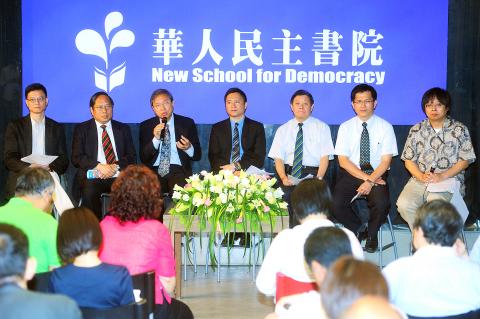 New School for Democracy chairperson Wang Dan, center, and other members speak at the launch of the school in Taipei on Monday.
Photo: Liao Chen-huei, Taipei Times
The school will feature both face-to-face teaching and online classes, organizers said.
Members of the school include a number of well-known individuals, with the board including Tiananmen Square student leaders Wang Dan (王丹) and Wang Juntao (王軍濤), head of the Contemporary China Research Center at the City University of Hong Kong Joseph Cheng (鄭宇碩), editor-in-chief of the New York-based Beijing Spring magazine Hu Ping (胡平), former Government Information Office director Lin Chia-lung (林佳龍), Hong Kong Democratic Party Chairman Albert Ho (何俊仁) and National Chengchi University sociology professor Ku Chung-hwa (顧忠華).
During the official launch, the school announced its four primary areas of focus: promoting democratic development in Chinese societies, solidifying the theoretical bases for democratic movements, creating a communications platform for Chinese worldwide and enabling participation in politics beyond the confines of political parties.
Organizers said they hoped to rise above party politics and transnational borders, while respecting the younger generation and allowing democracy to take root through education.
Wang Dan, chairman of the college, said almost a year of planning had gone into the project and that it was very moving to finally see it come into being.
He said it was the first joint effort from civil society in Taiwan, Hong Kong and China, which gave the project special significance.
"Though we each have our own political inclinations, the fact that we wish to work together as academics is truly rare," Wang Dan said.
He also called on the pan-blue camp and the Chinese Nationalist Party (KMT) government to -participate in the project, adding that the college was also considering the possibility of inviting President Ma Ying-jeou (馬英九) to give a lecture.
Lin, one of the representatives from Taiwan, said that as long as China was not a democracy, the whole world — and especially Taiwan — would not be at peace, adding that the promotion of democracy in China was becoming more urgent.
Although the "Jasmine Revolution" has marked calls for democratization in the Arab world that have reached China, it does not seem to have bloomed there quite yet, Lin said, adding that continued effort would eventually "topple the high walls."
Lin said that since China was trying to unify Taiwan through its "Strait-West Special District" (海西特區), why not make it a "Democracy Special District?" Lin added that China only had semi--democratic mechanisms at the village level and should promote democratization through elections at higher administrative levels.
The school will be registered in Hong Kong, with offices in Taiwan and Hong Kong, Wang Dan said, adding that courses would begin in September.
Ho, who has long been concerned with democracy in China, said the decision to register the college in Hong Kong had special significance.
Hong Kong played a special role in the Xinhai Revolution (辛亥革命), which led to the formation of the Republic of China 100 years ago, Ho said, adding that Hong Kong had always been the place where revolutionary and reformist ideas in China came from.
The demands for democracy and constitutional government that emerged from the Xinhai Revolution a century ago have yet to be met and Hong Kong's duty to history is not yet finished, Ho said.
Ku said that with the Chinese government's hold on independent thought growing tighter and tighter, China had yet to become a major nation in the normal sense.
TRANSLATED BY JAKE CHUNG, STAFF WRITER
Comments will be moderated. Keep comments relevant to the article. Remarks containing abusive and obscene language, personal attacks of any kind or promotion will be removed and the user banned. Final decision will be at the discretion of the Taipei Times.