Cracker may be built overseas
ON HOLD: The Minister of Economic Affairs said a naphtha cracking project would not proceed unless it passed an environmental impact assessment review
Relocating the development project for Kuokuang Petrochemical Technology Co's proposed eighth naphtha cracker overseas could be an option amid opposition to constructing the plant in Taiwan, Minister of Economic Affairs Shih Yen-shiang (施顏祥) said yesterday.
On a visit to Academia Sinica, Shih said that from an economic point of view, major development projects such as naphtha crackers should be built in Taiwan, but added that the government would not oppose relocating such projects overseas if the environmental cost was "too heavy to bear."
"The government will not proceed with Kuokuang's naphtha cracking project without the passage of an environmental impact assessment," Shih said.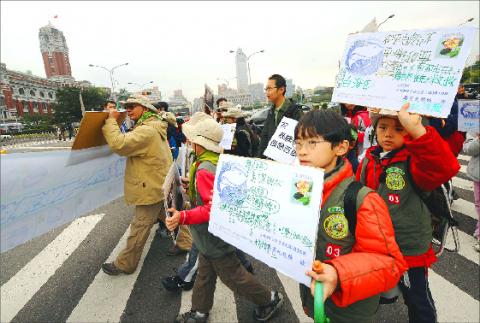 Children and their parents yesterday hold up mock handmade postcards outside the Presidential Office, calling on President Ma Ying-jeou to stop the construction of the eighth naphtha cracker Plant in Changhua County. The project is believed to threaten wetlands that form part of the natural habitat of the endangered pink dolphin.
Photo: CNA
Shih made the remarks in response to questions by Chou Chang-hung (周昌弘), an Academia Sinica specialist in plant ecology and phytochemical ecology.
Chou said the proposed eighth naphtha cracker, as well as the operational sixth naphtha cracker in Mailiao Township (麥寮), Yunlin County, run counter to the government's policies on energy-saving and reducing carbon dioxide emissions.
Chou said the sixth cracker had damaged land, air and water resources in areas near the plant.
Building a new cracker in Changhua County would cause further damage, with the proposed plant expected to account for 25 percent of the nation's carbon dioxide emissions when operational, Chou said.
In related news, representatives of environmental protection and wildlife conservation groups accompanied 20 schoolchildren to the Presidential Office yesterday to deliver postcards to President Ma Ying-jeou (馬英九) asking him to protect Taiwan's indigenous pink dolphins, which are facing extinction.
The proposed location of Kuokuang's cracker is a 200-hectare stretch of wetland at the estuary of the Jhuoshuei River (濁水溪), which also forms part of the habitat of the pink dolphins, whose population is believed to number fewer than 100.
Comments will be moderated. Keep comments relevant to the article. Remarks containing abusive and obscene language, personal attacks of any kind or promotion will be removed and the user banned. Final decision will be at the discretion of the Taipei Times.