Wildlife area to be established in Danda
Wild BOUNTY: The planned area will be the largest in Taiwan, and contains a diverse array of rare plants, birds and animals, including the Taiwan blue magpie
The Forestry Bureau yesterday said it planned to establish a new wildlife management area — the nation's largest — in the Danda (丹大) area of Nantou County, amid renewed efforts to monitor and protect the environment and promote biological diversity and a sustainable ecological environment.
The bureau said it would develop the protected area in terms of the Wildlife Conservation Act (野生動物保育法). It will consist of 109,952 hectares in the mountainous area, making it the country's largest wildlife conservation area.
The Nantou Forest District Office said the planned Danda -wildlife conservation area contains a diverse array of organisms. Aside from rare animals, there are also rare plants, such as red and yellow cypresses, Taiwan yews, firs, Torreya trees and orchids, as well as plant species on the International Union for Conservation of Nature Red List of Threatened Species.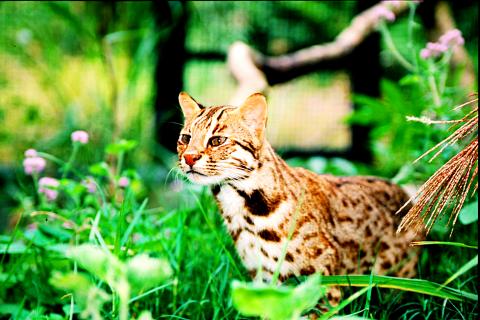 A Leopard Cat (Prionailurus bengalensis chinensis) is pictured in a file photo provided by the Nantou Forest District Office, which yesterday announced plans to establish a wildlife management station in the Danda area of Nantou County.
Photo: Courtesy of the Nantou Forest District Office
The bureau's monitoring records show that endangered mammals in the area include Formosan macaques, pangolins, Formosan clouded leopards, Formosan bears, yellow-throated martens, ferrets, weasels, brown Mino cats, muntjacs, Taiwan mountain goats and Formosan sambars.
The protected bird species are also diverse and include the crested goshawk, the crested serpent eagle, the forest eagle, the bear eagle, the Swinhoe's pheasant, the green pigeon, the brown wood owl, the grey owl, the spotted Scops owl (Otus spilocephalus), the small swallowtail, the white-tailed robin, the yellow-bellied fairy flycatcher, the Huangshan bird, the green-backed tit, the Taiwan Dai Ju and the Taiwan blue magpie.
Liu Fu-cheng (劉福成), director of the forest's district office, said ecological conservation was an important international issue and the creation of the conservation area would help protect biological diversity and provide useful resources for ecological research and monitoring.
Human intrusion has caused a lot of damage to natural habitats and the task of ecological monitoring and management is now more important than ever, he said.
Comments will be moderated. Keep comments relevant to the article. Remarks containing abusive and obscene language, personal attacks of any kind or promotion will be removed and the user banned. Final decision will be at the discretion of the Taipei Times.