Hospital accused of malpractice
LOST TESTICLES The family of an ex-conscript said that after a botched operation at an army hospital, the young man can never have children
In what could be one of the most shocking allegations of medical malpractice against the military in years, a conscript's family yesterday said that an army hospital mistakenly removed the soldier's testicles during an operation.
On April 23, 2004, an army conscript surnamed Chen (陳) had an operation at the Kaohsiung Armed Forces General Hospital believing that doctors would remove one testicle and pull the other to correct a case of undescended testicles.
The 21-year-old said he experienced abdominal pain shortly after waking up, but did not manage to see a doctor until completing his compulsory military service.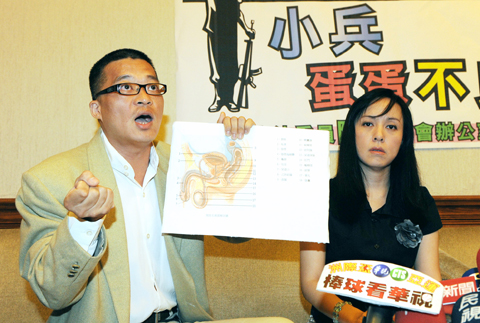 Democratic Progressive Party Legislator Chen Ying, sitting next to a man holding an anatomical chart, told a press conference yesterday that the Kaohsiung Armed Forces General Hospital was guilty of oversight after a soldier had the vas deferens — the duct that transports sperm from the epididymis to the penis — of one of his testicles removed by a doctor after a routine checkup.
PHOTO: CNA
On May 10, 2005, he checked into the Kaohsiung Veterans General Hospital only to be told that doctors had mistakenly pulled his intestines into his scrotum rather than his left testicle. That testicle has since been removed because of complications arising from the operation.
Adding to the confusion surrounding the original surgery, the hospital also said that during the operation, surgeons mistakenly took out the vas deferens — a duct that transports sperm — from his right testicle, even though it was unrelated to the procedure.
The recruit's uncle, Chen Jung-cheng (陳榮正), said the family deserved an explanation, adding that they did not rule out claiming compensation from the military.
Since his discharge from the military, his nephew has become a changed man, Chen Jung-cheng said.
The younger Chen used to be a confident young man who enjoyed seaside sports and going to the beach.
"Now he's afraid of all this and even of going to the spa ... he has completely lost his self confidence and shies away from going out and meeting [girls]," he said, adding that his nephew broke up with his girlfriend shortly after the operation.
News reports said the original doctor who worked on the operation, also surnamed Chen, has since left Kaohsiung Armed Forces General Hospital. The family said requests to obtain medical records of the operation have been turned down.
Military medical officials yesterday said they were not clear on the case.
However, Yang Jung-mu (楊榮木), a director-general at a military health department, said he would complete an investigation by Monday.
For the former army recruit, however, this may be too little, too late. On May 20, 2005, 13 months after his original surgery, he was told that efforts to reconnect his sperm duct had failed.
"We are afraid to tell his grandmother ... that he most likely will never have children," Chen Jung-cheng said.
Comments will be moderated. Keep comments relevant to the article. Remarks containing abusive and obscene language, personal attacks of any kind or promotion will be removed and the user banned. Final decision will be at the discretion of the Taipei Times.