ANALYSIS: Analysts say referendum highlights problems
Saturday's referendum on casino resorts in Penghu County proceeded smoothly, but highlighted problems with procedural justice, analysts said.
A total of 42.16 percent of Penghu County's 73,651 eligible voters turned out for the referendum, with 17,359 votes, or 56.44 percent, against the proposition to allow the opening of casinos on the islands.
At the center of the controversy regarding its procedural fairness was that the referendum, based on the Offshore Islands Development Act (離島建設條例), was binding regardless of voter turnout.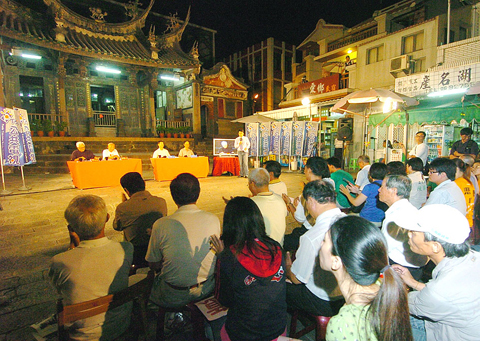 Local residents watch a debate on the government's proposal to set up casinos in Penghu in front of a temple in Magong City on Friday evening.
PHOTO: HUANG CHIH-YUAN, TAIPEI TIMES
It permitted the licensing of casinos on Taiwan's offshore islands pending the results of a referendum in a way that excluded such votes from the threshold stipulated in the 2003 Referendum Act (公民投票法). That act requires more than half of eligible voters to cast ballots for a poll to be valid.
The Chinese Nationalist Party (KMT), which controlled the legislature at the time, introduced the clause, saying "Penghu County has a severe population loss problem."
"Using the rationale to exempt the poll from the threshold is doubtful," said Wang Yeh-lih (王業立), a professor of political science at National Taiwan University.
"It's not a good enough reason for the exemption, as whether to set up casinos is a big issue for a region's development," he said.
After the referendum, pro-casino voters said they respected the result.
If the turnout was too low and the margin very small, there could have been a legitimacy problem, Wang said.
According to the government's statistics agency, last year Penghu saw approximately 37 percent of its working population leave, a figure that explained the concerns of pro-casino forces that a 50 percent turnout threshold was too high.
"It's apparent that setting no turnout threshold for referendums in outlying islands was tinged with political overtones," said Lin Jih-wen (林繼文), a researcher at the Academia Sinica's Institute of Political Science.
"There is no universal standard for thresholds. In France referendum results are respected despite the fact that it often sees an average turnout of 20 percent. Its referendums are not legally binding but of consultative nature. But in a country where awareness is relatively poor, a low turnout will suffer a legitimacy problem," Lin said.
Lin said a high threshold does not necessarily resolve legitimacy problems either, as it could result from a mobilization of people against the topic who would otherwise not vote.
Looking at the case of Penghu, "you can clearly see political calculation in all this," Lin said.
"The threshold exception was made as it was foreseen that the turnout could be low and having no threshold would favor pro-casino forces: the government, business groups and politicians who are more capable of mobilization than the opposition," Lin said.
In 2003 before the Referendum Law was promulgated, Penghu County Government organized a consultative referendum on the issue, which saw a turnout of just 20.5 percent, with the "yes" vote garnering 57 percent of ballots cast, while 43 percent voted "no."
Saturday's poll result was no surprise to Yeh Chih-kuei (葉智魁), a professor of sports and leisure studies at the Graduate Institute of Tourism & Recreation at National Dong Hwa University.
Having studied the issue since it was proposed by former KMT lawmaker Chen Kwei-miew (陳癸淼) in 1992, Yeh said "many Penghu residents had shown their concern."
"Media reports that conglomerates' plans to build hotels, resorts and the like were under way created an impression that the referendum was going to pass but it was not accurate. A number of opinion polls over the years showed quite different results," he said.
Yeh said that the difficulty in weighing up the pros and cons of casinos was a major reason casino advocates contended that the threshold be scrapped.
Another procedural justice concern arose when anti-gambling activists said that the administration did not remain neutral in the organizing of the referendum.
"Before a major policy is voted upon, the government should let the public know how it will influence people, its advantages and disadvantages. But in this case, the government saw the opening of casinos as a fait accompli, publishing booklets and using other means to promote their benefits," Yeh said.
The Penghu County Government also held public hearings in all its 36 villages, townships and cities ahead of the vote as required by the Referendum Law.
However, it was not until the 14th hearing that the opposition had a chance to speak after Wu Hsun-lung (吳巡龍), a Penghu prosecutor, protested that the government had ignored dissenting voices.
"From the first to the 13th hearings, all the public hearings started with a half-hour presentation by the Penghu County Government in support of casinos followed by two people from the affirmative side, a total of more than one hour. I raised an objection at the 14th hearing. After that, opponents were allowed to give an opinion, but just for five minutes," Wu said.
Wu's behavior drew the ire of Lin Pin-kun (林炳坤), a five-term independent lawmaker in the county and casino advocate.
On Sept. 18 at the question-and-answer session in the legislature, Lin criticized Wu, saying it was "inappropriate" for a prosecutor to speak out against casinos, and demanding Minister of Justice Wang Ching-feng (王清峰) look into the matter.
Wang at first sympathized with Lin, but then came to Wu's defense after learning that his participation occurred when he was off duty.
Wu's case was not isolated and showed how influential locals tried to manipulate public opinion in favor of casinos and had been intolerant of the anti-gambling movement.
"There was not even one article against casinos published in the opinion pages of the Penghu Times and the Penghu Daily … Penghu Cable TV even made me a target for its attacks," Wu said, referring to the county's main media sources, which are all affiliated with business groups or politicians.
Yen Chiang-lung (顏江龍), a 28-year-old serving his alternative military service in the county, said the government hadn't adressed residents' concerns about casinos.
"That way, when we appeared to cast ballots, we were like patients unable to decide whether to have surgery because we were not told about the risks involved," Yen said.
Since the Act passed the legislature in January, the government had said that it would propose a complete set of complementary measures on casino management, dealing with tax revenue generated by casinos, feedback funds and job opportunities for Penghu residents, as well as how to prevent deterioration of public order and safety by the end of the year.
"Without complementary statutory measures in place, people would rather not take the risk. At first, we were told that 60 percent of casino tax revenue would go to Penghu, but later it was raised to 80 percent. We wanted a clear blueprint for Penghu's future," Yen said.
Yen said the referendum showed that trying to impose a policy always backfires.
Also See: Politicians use or reject public will as they like
Also See: Astro, Firich drop on casino referendum
Comments will be moderated. Keep comments relevant to the article. Remarks containing abusive and obscene language, personal attacks of any kind or promotion will be removed and the user banned. Final decision will be at the discretion of the Taipei Times.