Crowd marks Sakyamuni birthday
Politicians gathered yesterday outside the Presidential Office to celebrate the 2,552nd anniversary of the birth of Sakyamuni Buddha.
The sunny weather attracted thousands of people including diplomats, religious leaders and politicians across party lines to the gathering on Ketagalan Boulevard.
President Ma Ying-jeou (馬英九) said yesterday the birthday was an important day for the Buddha and all mothers. If it were not for Buddha's mother, Queen Maya, who gave birth to Prince Siddartha, the Buddha's teachings would not have enlightened the world and benefited mankind, he said.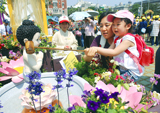 People bathe a statue of Prince Siddhartha Gautama during a ceremony in Taipei yesterday.
PHOTO: CHIANG YING-YING, AP
Ma said he was "touched" by how Taiwanese Buddhist groups had endeavored to promote Buddhism to families at home and abroad over the past 60 years, giving "Taiwanese culture" a new definition.
"It is touching to see once again the Taiwanese demonstrate their longstanding tradition of tolerance and respect," he said.
Ma said he was happy to see religious groups from all around the world come together on this day. It symbolized that "the Republic of China is a country with religious freedom and is a nation that is open and diverse."
"Over China's long history, there was never a war caused by religious conflict," he said. "It is a remarkable contribution to world culture."
As it was also the Bathing Buddha Festival, Ma said he hoped the public would cultivate kindness, benevolence, respect and righteousness.
Before his speech, Ma performed the "bathing Buddha" ritual. He was followed by politicians, including Chinese Nationalist Party (KMT) Chairman Wu Po-hsiung (吳伯雄), who also serves as honorary president of the Buddha's Light International Association, the event organizer.
Holding a wooden ladle, Ma poured water over a small statue of the Buddha three times while reciting: "May I eliminate all evil thoughts" on the first wash, "May I cultivate good deeds" on the second and "May I help save all living beings" on the third.
Bathing a statue of Buddha symbolizes a fresh start in life and the care given to newborn babies. Many other countries celebrate Buddha's birthday on May 2.
Legend has it that when Prince Siddhartha was born, there were auspicious signs heralding his birth.
They describe the sky as blue and clear on his birth, with dragons spurting purified water to bathe him. Since then, Buddhists have celebrated his birthday by using fragrant water to bathe the image of Buddha.
With the Democratic Progressive Party set to stage a march and sit-in protest on Ketagalan Boulevard next Sunday, Wu said yesterday the venue had been the origin of many demonstrations.
The KMT chairman said yesterday's gathering showed public support for the Ma administration's efforts to improve the economy, which he said showed signs of recovery.
"What we need right now is unity, not hullabaloo," he said. "Both the ruling and opposition parties should make a joint effort to improve the economy and make this land a better place."
Comments will be moderated. Keep comments relevant to the article. Remarks containing abusive and obscene language, personal attacks of any kind or promotion will be removed and the user banned. Final decision will be at the discretion of the Taipei Times.