Taipei Zoo succeeds in breeding rare Formosan boar
PIGS IN A BLANKET The wild boars are slowly disappearing from the wild as domesticated pigs interbreed with them, which is a result of farmers refusing to fence in their stock
The Taipei Zoo recently celebrated the birth of a Formosan wild boar, the first time the zoo has bred the animal, which is endemic to Taiwan, under a preservation program in cooperation with National Taiwan University to keep the purebred strain of the boar alive.
Taipei Zoo director Jason Yeh (葉傑生) announced yesterday that the male boar, born on Feb. 21, was named "Tai An" (泰安) because the breeders hoped it would grow in a healthy and safe way.
It was also hoped that Tai An would be able to reproduce in the future, Yeh said, adding that it had become increasingly unusual to spot pure-blood Formosan wild boars in Taiwan's mountainous areas, where the animals once thrived.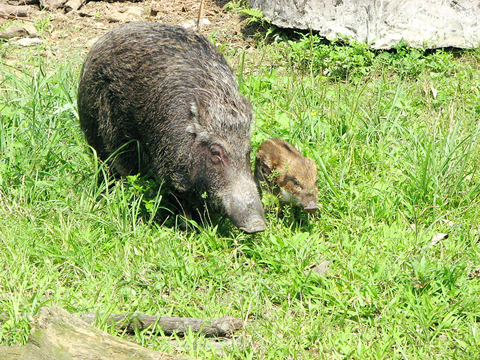 Tai An, born to a pair of Formosan wild boars, keeps close to its mother as she grazes in an enclosure at Taipei Zoo yesterday.
PHOTO: CHIU SHAO-WEN, TAIPEI TIMES
Some hog breeders living in the mountains have let their stock run around without fencing them in, raising the chances of cross-breeding between domestic pigs and wild boars, Yeh said.
Citing research findings, Yeh said there had been a lot of hybrid wild boars spotted in the mountains in recent years whose physical characteristics, such as fur color and the shape of the ears, are seen to be different from those of purebred Formosan wild boars.
Although the wild animal is not categorized as an endangered species in Taiwan, the zoo decided to launch its effort to preserve the strain. The boars live in groups in hilly and mountainous areas around the nation, Yeh said.
The Taipei Zoo has a pair of pure-blood Formosan wild boars and Tai An is their first offspring born under the zoo's preservation program, the zoo said.
Comments will be moderated. Keep comments relevant to the article. Remarks containing abusive and obscene language, personal attacks of any kind or promotion will be removed and the user banned. Final decision will be at the discretion of the Taipei Times.