Cigarette prices may rise soon
PRICE INCREASES The average price of a pack of cigarettes is expected to rise to NT$60 after the tobacco surcharge takes effect as early as next month
Cigarette prices could be raised as soon as next month if a mandatory hike in the tobacco surcharge takes effect, Department of Health (DOH) Minister Yeh Ching-chuan (葉金川) said yesterday.
Yeh was referring to an amendment to the Tobacco Hazards Prevention and Control Act (菸害防制法) that cleared the legislature on Jan. 12, according to which the health and welfare surcharge imposed on tobacco products should be increased by between NT$10 and NT$20 per pack.
With cigarette prices now averaging NT$50 per pack, the average price is likely to increase to over NT$60 after the new surcharge comes into force.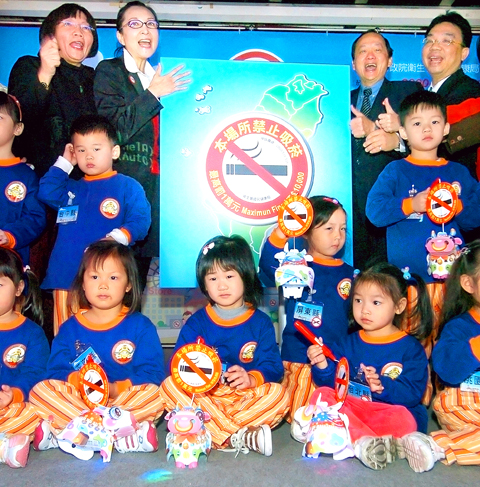 Department of Health Minister Yeh Ching-chuan, second right, Hsiao Mei-ling, director-general of the Bureau of Health, second left, anti-smoking volunteer Chen Shu-li, first left, and the director of Taichung County's Public Health Bureau, Chu Nain-feng, first right, hold up anti-smoking signs with kindergarten children yesterday at a press conference on the effects of the first month of the new Tobacco Hazards Prevention and Control Act.
PHOTO: WANG MIN-WEI, TAIPEI TIMES
Wen Chi-pang (溫啟邦), a research fellow at the National Health Research Institutes' the Center for Health Policy Research and Development, said that higher cigarette prices would discourage smokers, with the country's smoking population likely to decrease by 200,000 people over the next two to three years.
The number of smokers in the country is now estimated at about 4.5 million.
Wen said that if the average price of cigarettes went up to NT$150 per pack, the number of smokers could shrink by 2 million within 10 years.
The new ban on smoking in public places that came into effect last month would also encourage many smokers to quit, Wen said.
Under the ban, smoking is not allowed on public transport or inside most public premises, including roofed transport stations, KTV parlors, Internet cafes, comic-book stores and offices with three or more personnel.
Those who smoke in prohibited areas can be fined up to NT$10,000 while the owners of the premises can be fined up to NT$50,000.
Prominent "no smoking" signs are required at the entrances of such establishments, with those failing to display them subject to fines of up to NT$30,000.
Vendors are not allowed to sell cigarettes to persons under the age of 18, to display cigarettes on shelves that are accessible to consumers, or to place cigarettes in automatic vending machines. These offenses can also lead to fines of up to NT$50,000.
Also banned are cigarette advertisements and cigarette promotional activities, with fines set at a maximum of NT$500,000 for vendors, NT$25 million (US$734,000) for cigarette companies and NT$1 million for the advertising media.
DOH statistics released on Wednesday showed that health authorities have fined a total of 76 offenders over the past month, with the highest fine so far — NT$100,000 — slapped on a betel nut vendor in Taichung City who sought to attract customers by offering free cigarettes.
Comments will be moderated. Keep comments relevant to the article. Remarks containing abusive and obscene language, personal attacks of any kind or promotion will be removed and the user banned. Final decision will be at the discretion of the Taipei Times.