'Cape No. 7' brings Hengchun fame
The unexpected popularity of the film Cape No. 7 (海角七號) has drawn thousands of tourists to Hengchun (恆春), the town in Pingtung County where the main setting of the film is located.
Directed by Wei Te-sheng (魏德聖), the homegrown comedy has taken in nearly NT$400 million (US$12.3 million) at the box office as of yesterday, potentially making it the highest-grossing Chinese-language film produced in Taiwan.
The house of the film's main character "Aga" (阿嘉), portrayed by Taiwanese pop singer Van Fan (范逸臣), has also become a must-see tourist attraction for out-of-town visitors.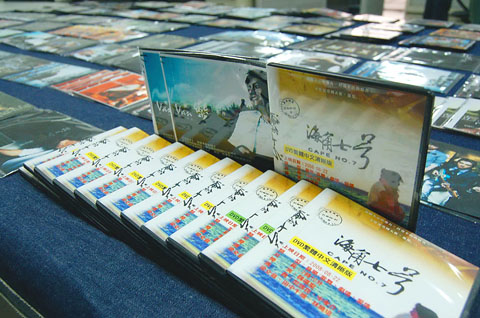 Pirated DVDs of the popular movie Cape No. 7 are displayed at the offices of the Intellectual Property Rights Police Team in Sindian, Taipei County, yesterday.
PHOTO: CHIU SHAO-WEN, TAIPEI TIMES
"In the past, people would skip Hengchun and go straight to Kenting (墾丁)," said Chang Yung-yuan (張永源), the real owner of the house. "Now they make a detour for Hengchun before they head south to Kenting."
Chang said in an interview with the Taipei Times yesterday that tourists swarmed through the city's four old gates during the National Day holiday, and most of the hostels in town were full as well. The fact that his old house has been packed with visitors also took Chang by surprise.
Chang said that he was born in the house, which is about 80 years old.
After the Hengchun earthquake two years ago, Chang and his family moved to another house nearby. His wife, however, still uses the kitchen to cook everyday.
"They told my wife they wanted to use the house for a movie and may have to do some renovation," he said. "I said 'go ahead' and let them do whatever they needed to do," without knowing what the movie was really about.
Chang's house started getting dozens of visitors a day after the film became a huge success.
"At first, we simply invited them in and let them check out what Aga's house looks like, but later we just could not take it anymore," he said.
Chang said the family decided to charge visitors a small fee to help keep the house neat and tidy.
The house is also a hostel now for fans of the movie who want to spend the night in Aga's bedroom.
The film's other settings in Pingtung, including the house of the character Kojima Tomoko in Manjhou Township (滿州鄉) and the Chateau Beach Resort in Kenting (墾丁夏都飯店), have become tourist destinations as well.
Comments will be moderated. Keep comments relevant to the article. Remarks containing abusive and obscene language, personal attacks of any kind or promotion will be removed and the user banned. Final decision will be at the discretion of the Taipei Times.