Committee aims to clarify stance on arms with US
MISUNDERSTANDING Delegation members, all KMT legislators, aim to dispel the perception in the US that the party is against arms procurement
Members of the legislature's Diplomacy and National Defense Committee left for the US yesterday with the aim of communicating to Washington the importance of arms procurement by Taiwan.
Chinese Nationalist Party (KMT) Legislator Lin Yu-fang (林郁方), head of the committee, issued a press release prior to the delegation's departure saying that the delayed progress of the procurement had led to misunderstandings among "many people in the US" that the government intended to postpone or stall purchases, even though the Legislative Yuan had approved budgets for the acquisition of F-16 C/D jet fighters, the PAC-3 missile system and other weapons.
"The most important objective of this delegation is to exchange ideas with US government agencies and academics regarding the progress of arms procurement and communicate to them the correct and first-hand message from the Republic of China's legislature," the release said.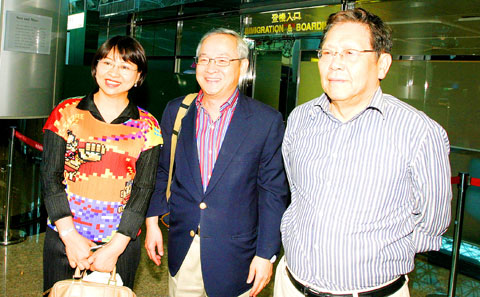 Chinese Nationalist Party (KMT) legislators Liao Wan-ju, Lin Yu-fang and Shuai Hua-ming, left to right, pose for a photo before a delegation from the legislature's Diplomacy and National Defense Committee left for the US yesterday.
PHOTO: CNA
Later at Taiwan Taoyuan International Airport, Lin told reporters that the trip was meant to show that "the KMT is not against arms procurement and neither is President Ma [Ying-jeou (馬英九)]."
"As President Ma said, we support arms procurement that is reasonable," he said, adding that the legislature would not have passed the related budgets if it was opposed to procurement.
The delegation is expected to visit the US Department of Defense, the Defense Security Cooperation Agency, the American Institute in Taiwan (AIT) and members of the House Armed Services Committee and the Senate Foreign Relations Committee between tomorrow and Thursday.
The delegation, composed of five KMT legislators, will also visit the Center for Security and International Studies and meet with Richard Bush, a senior fellow at the Brookings Institution and former AIT director, and officials from the State Department to exchange opinions on the issue.
The committee members left for the US after Legislative Speaker Wang Jin-pyng (王金平) embarked on a similar trip last Thursday to improve the US' understanding of Taiwan's position on arms procurement.
Although Ma said on July 12 that the government's policy on procuring weapons from the US remained unchanged, Admiral Timothy Keating, commander of the US forces in the Pacific region, confirmed on July 16 the decision of the administration of US President George W. Bush to freeze the processing of some US$12 billion in arms sales to Taiwan — at least temporarily.
Comments will be moderated. Keep comments relevant to the article. Remarks containing abusive and obscene language, personal attacks of any kind or promotion will be removed and the user banned. Final decision will be at the discretion of the Taipei Times.