High school students bag top country prize at science Olympiad
The International Junior Science Olympiad (IJSO) wound up yesterday with host country Taiwan the biggest winner.
Not only did each of the six team members win a gold medal for individual achievements, but the team bagged the grand prize -- the best country award.
In addition, two team members received the highest individual honors.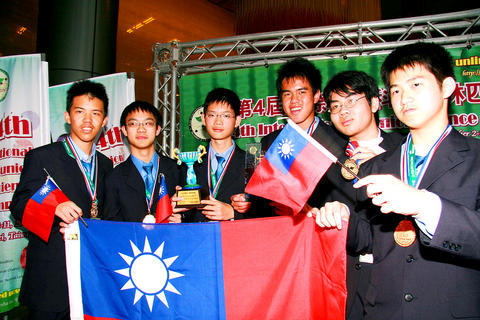 Taiwanese participants in the Fourth International Junior Science Olympiad hold up national flags and a trophy during the closing ceremony at CPC Corp, Taiwan's conference hall in Taipei.
PHOTO: COURTESY OF THE MINISTRY OF EDUCATION
Taipei County Yongho Junior High School ninth-grader Chen Yu-an (陳昱安) won the Best Theory Award, while Tainan Jiansing Junior High School ninth-grader Yang Hung-yu (楊泓翊) took home the Overall Winner Award.
Team Russia and Singapore also achieved impressive results, with each team receiving four gold medals and two silvers.
Russia also won the gold medal for the best team award -- the Experiment Award -- while Singapore was named runner-up.
"I've been interested in mathematics since elementary school," gold medalist Taipei Municipal Jianguo High School sophomore Lin Yuan-yi (林沅毅) told reporters, adding that he learned how to calculate square roots in second grade.
Others expressed similar early affinities for either science or mathematics, although virtually none of them said their interest stemmed from parental influence.
"My parents allow for free development [in academics]," Yang told the Taipei Times. "It's a personal interest," augmented by "what I learn in school."
However, most of the students said that reading in their spare time and developing interests outside of the school curriculum was important.
It was also noteworthy that unlike most local students, two team members -- Taipei Municipal Jianguo High School sophomore Yang Chen (楊震) and Taichung Municipal Chu-jen Junior High School ninth-grader Huang Chao-wei (黃朝煒) -- had never spent a day in cram school.
When asked how they handled school and prepared for the competition, Yang Chen advised fellow students to "pay close attention to school teachers in class" and to "try to attain more information on the subjects that particularly interest you."
"I spend a lot of time playing go [the board game] and sports, like soccer and swimming," Yang Chen said.
Yang Hung-yu said that local students are strong in memorization and theory but rather weak in practice. This, he said, contributed to Taiwan's outstanding achievements in the theoretical part of the competition and lackluster performance in the experimental part.
"Taiwan's system of education is great," Yang Chen said. "But students have to supplement their learning by developing knowledge and interests beyond the curriculum."
Comments will be moderated. Keep comments relevant to the article. Remarks containing abusive and obscene language, personal attacks of any kind or promotion will be removed and the user banned. Final decision will be at the discretion of the Taipei Times.