Feature: The rise and fall of crime boss Chen Chi-li
The life of late Bamboo Union gang leader Chen Chi-li (陳啟禮) provides the perfect example of the complicated relationship that existed between criminal organizations and the Chinese Nationalist Party (KMT) regime.
Chen and two fellow gang members gunned down Chinese-American writer Henry Liu (劉宜良) -- better known by his pen-name Jiang Nan (江南) -- at his house in 1984, reportedly at the order of a Military Intelligence Bureau chief.
Chen died of pancreatic cancer in Hong Kong on Oct. 4.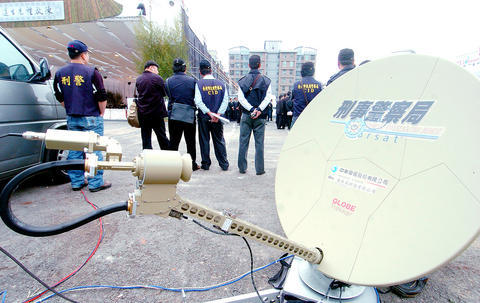 Criminal Investigation Bureau officers look on as Chen Chi-li, a former leader of the Bamboo Union gang, is placed in a funeral hall in Dazhi, Taipei, on Thursday. The satellite dish was set up by bureau personnel to transmit the event back to headquarters.
PHOTO: CHANG CHIA-MING, TAIPEI TIMES
The Liberty Times' (the Taipei Times' sister newspaper) Wang Jui-teh (王瑞德) interviewed Chen's fellow gangsters before Chen passed away.
Chen's close friends said he had wanted to return to Taiwan to receive cancer treatment and spend his last days in his home country.
Fellow gangsters said that Chen did not understand why the government would treat a patriot like him as a criminal.
Wu Dun (吳敦), a former Bamboo Union member who was arrested with Chen for the Liu murder, told reporters last week that "The government had treated Chen very unfairly."
"It is very disappointing that a man who sacrificed himself for the county was forced into exile overseas," Wu said.
Following Chen's death and the return of his body to Taiwan, fellow gangsters, some celebrities and media have begun portraying him as a patriot and a hero.
Chang An-le (張安樂), the former leader of the Bamboo Union gang, said Chen was not a normal gangster, but an idealist who had made money doing the right thing.
Such praise forced President Chen Shui-bian (陳水扁) to complain that the media should not turn the gangster into a hero.
Taiwan Media Watch president Kuan Chung-hsiang (管中祥) said that although Chen Chi-li had led a "legendary" life, it was not proper for the media to portray him as a hero.
Chen Chi-li's burst on the scene in the 1960s, as he and a few fellow gangsters transformed the Bamboo Union into one of the nation's largest criminal organizations.
The Bamboo Union was created in Yonghe (永和), Taipei County, by the disaffected children of Mainlander parents who banded together to defend themselves against beatings by Hokklo gang members.
Perhaps because so many of its members came from military families, the gang was far better organized and its members were prepared to use violence more readily than its Hokklo rivals.
Soon after its creation, the Bamboo Union was a force to be reckoned with in Taipei.
With the pro-democracy movement gaining momentum in the late 1970s and following the Chungli Incident of 1977 and the Kaohsiung Incident two years later, the KMT government started realizing that its heavy-handed approach was damaging its image. It therefore granted the Bamboo Union a certain degree of immunity in return for a commitment to flex its muscles against the pro-democracy movement.
Following the Kaohsiung Incident, high-ranking KMT officials met the by-then gang leader Chen Chi-li and asked him to use his influence to "serve the country."
In October 1984, Chen Chi-li and several fellow gang members flew to San Francisco and gunned down Henry Liu before the latter could complete writing a critical biography of then-president Chiang Ching-kuo (蔣經國).
Chen Chi-li was arrested in Taiwan one month later during a crackdown on criminal gangs.
At his trial, Chen Chi-li said he had carried out the murder at the request of Admiral Wang Hsi-ling (汪希苓), the head of the Military Intelligence Bureau, who suspected Liu of spying for Taiwan, China and the US.
Wang later admitted in court to giving Chen Chi-li the order to carry out the assassination out of patriotism.
Chen Chi-li and Wang were sentenced to jail for murder. Chen Chi-li was released in 1991 after serving six years.
In 1996, Chen Chi-li learned that he was once again wanted by the authorities and fled to Cambodia, where he stayed for many years.
A senior Taipei City prosecutor, who asked to remain anonymous, told the Taipei Times that following his release Chen Chi-li had rejoined the Bamboo Union and continued to engage in criminal activity.
What he failed to understand was that a democratic system under the Democratic Progressive Party no longer tolerated such activities.
The controversy surrounding Chen Chi-li did not end with his exile, however.
After giving Taiwanese media an interview in 2000 in his luxurious Phnom Penh residence, during which he displayed weapons before the camera, he was arrested by Cambodian police in July the same year and charged with illegal possession of weapons and involvement in organized crime.
He was released in August 2001 after serving 13 months in jail.
Comments will be moderated. Keep comments relevant to the article. Remarks containing abusive and obscene language, personal attacks of any kind or promotion will be removed and the user banned. Final decision will be at the discretion of the Taipei Times.