MOFA honors inventor of woodball
The Ministry of Foreign Affairs (MOFA) cited woodball inventor Weng Ming-hui (翁明輝) yesterday for promoting sports exchanges and increasing Taiwan's visibility in the world by means of the sport.
Vice Minister of Foreign Affairs Yang Tzu-pao (楊子葆) conferred a "Friends of the MOFA" medal on Weng -- chairman of the Federation of International Woodball Associations and honorary chairman of the Chinese Taipei Woodball Association -- in a ceremony at the ministry.
Yang lauded Weng for not only having invented woodball in 1990, but also for promoting it over the past 17 years to make it an internationally known sport.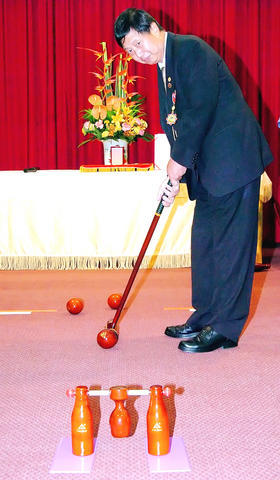 Woodball inventor Weng Ming-hui demonstrates how the game is played at an award ceremony held by the Ministry of Foreign Affairs in Taipei yesterday.
PHOTO: CHU PEI-HSIUNG, TAIPEI TIMES
Yang said the Olympic Council of Asia has decided to include woodball as an official competition in the First Asian Beach Games scheduled for Oct. 18 to 26 next year in Bali, Indonesia.
He said Weng has become a source of pride for Taiwan and has helped promote the nation's "sports diplomacy."
Weng said he has been promoting woodball around the world in a spirit similar to Taiwan's agricultural technology missions extending assistance to developing nations.
Weng said that thanks to modern communications technology, woodball would continue to make strides abroad over the next few years.
Woodball was invented in 1990 by Weng and Kuang-chu Young.
They tried to create a ball game in which the ball would stay on the ground while in play and that is neither expensive nor requires a large playing space so that they could invite friends to enjoy the game on their lawn.
Woodball, which looks like a cross between golf and croquet, consists of playing a ball from a starting area through a series of gates by a stroke or successive strokes. The competitor who plays the stipulated round or rounds in the fewest strokes is the winner. It is a portable lawn game with players using the same mallet for teeing off, fairway play and putting.
A woodball is larger and heavier than a golf ball. As a result, a woodball only rolls on the grass so the sport can be played in a yard or other small areas as well as on beaches.
Comments will be moderated. Keep comments relevant to the article. Remarks containing abusive and obscene language, personal attacks of any kind or promotion will be removed and the user banned. Final decision will be at the discretion of the Taipei Times.