Ma Ying-jeou visiting India, Singapore
Chinese Nationalist Party (KMT) presidential candidate Ma Ying-jeou (馬英九) arrived in New Delhi yesterday for a whirlwind two-day visit at the invitation of the Indian government.
During his stay, Ma will visit major Indian information technology industry associations, including the powerful National Association of Software and Service Companies.
Ma, a former KMT chairman and a two-term mayor of Taipei from 1998 to last year, will also meet India's ruling Congress Party leader Karan Singh and Rajnath Singh, chairman of the main opposition Bharatiya Janata Party for wide-ranging talks.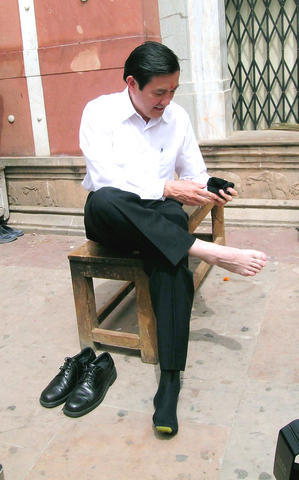 Chinese Nationalist Party presidential candidate Ma Ying-jeou removes his shoes and socks before entering the Laxminarayan Temple shortly after his arrival in New Delhi yesterday morning.
PHOTO: CNA
Following his India visit, Ma will travel to Singapore for a brief visit. His itinerary includes visits to the city state's harbor bureau and getting first-hand information about its casino management, as well as meetings with Singaporean political heavyweights, including Prime Minister Lee Hsien Loong (李顯龍) and Minister Mentor Lee Kuan Yew (李光耀).
Prior to his departure from Taipei late on Monday, Ma said that the five-day, two-leg visit was aimed at promoting international exchanges.
Noting that both India and Singapore are important players in the international community, Ma said that if he won the next presidential election, he would not ignore them in his diplomatic agenda.
"While India boasts a large software talent pool and robust economic strength, Singapore also plays an important role in global trade and regional politics. We cannot afford to overlook them in our diplomatic work," Ma said.
He said that the Democratic Progressive Party administration had regrettably failed to do more in forging closer ties with the two Asian neighbors.
Given India's excellence and prominence in computer software production, Ma said India can complement Taiwan, one of the world's top computer hardware suppliers, in information and communication technology industry development.
Taiwan would benefit much from forging closer economic and political ties with India, he said.
Comments will be moderated. Keep comments relevant to the article. Remarks containing abusive and obscene language, personal attacks of any kind or promotion will be removed and the user banned. Final decision will be at the discretion of the Taipei Times.