Zoo's incompetence kills crocodile in Kaohsiung
A crocodile was shot dead at Kaohsiung Shoushan Zoo yesterday after biting off a veterinarian's forearm when he was trying to treat the sick animal.
The incident occurred when zoo vet Chang Po-yu (張博宇) was giving the crocodile anesthetic shots.
Chang, thinking the animal was adequately sedated, tried to pull a syringe from the alligator, when it suddenly turned around and bit off his left hand and forearm.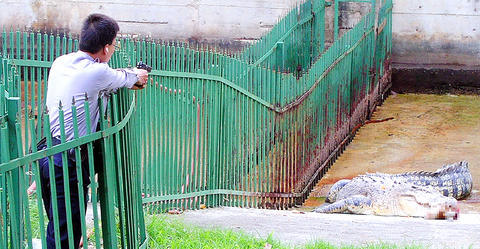 A policeman yesterday takes aim at a crocodile at the Shoushan Zoo in Kaohsiung that had bitten off the forearm of a veterinarian who thought it was fully sedated while performing an examination. The crocodile was killed and the severed limb (obscured by mosaic) was recovered.
PHOTO: HUANG CHIH-YUAN, TAIPEI TIMES
Chang was rushed to hospital. Police arrived at the scene one hour later and fired two shots at the crocodile, killing it and freeing Chang's forearm from its mouth.
Paramedics rushed the limb to the hospital, where doctors were performing microsurgery in a bid to reconnect it to Chang's arm.
"This is a difficult operation because we have to sew back his muscles, nerves and blood vessels, which are badly severed," one doctor told reporters.
This was the second animal attack at the zoo in two months. On Feb. 11, a chimpanzee bit off part of the finger of a three-year-old boy when his father held him too close.
Comments will be moderated. Keep comments relevant to the article. Remarks containing abusive and obscene language, personal attacks of any kind or promotion will be removed and the user banned. Final decision will be at the discretion of the Taipei Times.