Lin I-hsiung hits the trail for DPP
OLD TIES Even though he is no longer a member of the party, Lin said it remains the best choice for voters as he took part in campaigning in Shilin
Former Democratic Progressive Party (DPP) chairman Lin I-hsiung (林義雄), who had been staying out of the limelight, came forward yesterday to endorse the party's Taipei and Kaohsiung candidates.
Although he withdrew from the DPP earlier this year, Lin said that the party remains the best choice and most progressive political party in the country.
"I step forward and endorse Hsieh because I affirm and recognize his efforts as former Kaohsiung mayor and premier," Lin said, while accompanying Hsieh at a campaign event yesterday in Shilin District.
Chinese Nationalist Party (KMT) Taipei mayoral candidate Hau Lung-bin, center, thanks supporters yesterday.
PHOTO: CHIANG YING-YING, AP
Lin, one of his party's most respected elders, said he has been friends with Hsieh and the DPP's Kaohsiung mayoral candidate Chen Chu (陳菊) for years.
He said he "would extend a hand to express solidarity."
Lin will also campaign for Chen Chu in Kaohsiung, starting today.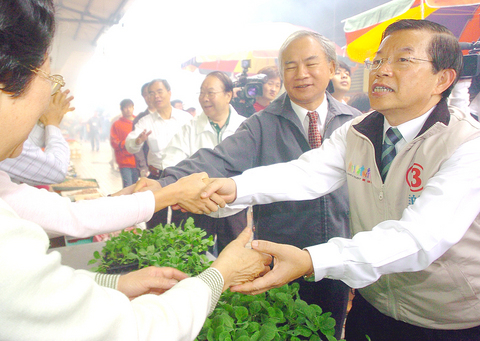 Former Democratic Progressive Party (DPP) chairman Lin Yi-hsiung, second right, accompanies DPP Taipei mayoral candidate Frank Hsieh on a visit to vendors at Shilin Market.
PHOTO: LU CHUN-WEI, TAIPEI TIMES
Chen Chu campaign chief executive officer Chen Chi-mai (陳其邁) said Lin's reputation for his integrity and honor is expected to benefit her campaign chances.
"There are not many things that can touch people's heart now given recent political upheaval, but Lin's support for Hsieh will definitely touch many people's heart," former DPP legislator Lee Wen-chung (李文忠) said.
Fearing pan-green voters may be lukewarm about casting ballots in Saturday's elections because of recent political scandals, the DPP yesterday urged supporters to vote for its mayoral candidates.
DPP Chairman Yu Shyi-kun and Central Standing Committee mem-bers also reached a resolution in yesterday's meeting that the party would start a telephone campaign to its supporters in a bid to encourage them to vote.
Yu said he would resign as chairman if the party "fails" in the elections.
Several members of the party's former New Tide faction yesterday also urged independent voters to support the DPP's Taipei and Kaohsiung mayoral candidates.
Former DPP legislator Lin Cho-shui (林濁水) told a press conference that they would like to remind Taiwan's rational citizens that only when citizens continue participating in elections and politics can the nation's democracy develop in the right direction.
"It is citizens' unshirkable responsibility to care about public affairs and cast the vote after careful thinking," he said. "It is citizens who will ultimately suffer if they try to punish [politicians or parties] by refusing to cast ballots."
He said recent opinion polls had shown that people were very dissatisfied with political parties and leaders, which should be a warning to the nation.
Lee said that he believed Hsieh and Chen are models for other politicians because they insist on DPP's core values and stand for reform and progress.
"They should not be defeated in the elections only because negative campaigning reigned during the elections and rational citizens were discouraged from casting their votes," Lee said. "This would be a pity and unfair."
"It will be a good thing for the DPP if good and right people are elected," he said.
Additional reporting by Jimmy Chuang
Comments will be moderated. Keep comments relevant to the article. Remarks containing abusive and obscene language, personal attacks of any kind or promotion will be removed and the user banned. Final decision will be at the discretion of the Taipei Times.