Make Taiwan your home: Chen
ROOTS While paying respects to his Chinese ancestors, the president called on the public to consider Taiwan as their permanent homeland
President Chen Shui-bian (陳水扁) yesterday called on the public to recognize Taiwan as their permanent homeland during a family function to celebrate the 320th birthday of the family's first ancestor to move to Taiwan from Fujian Province.
The event was held in his hometown in Kuantien Township (官田), Tainan County.
Chen said that he participated in the ceremony not only to remind himself not to forget where he came from, but more importantly to acknowledge his forefather's choice in making Taiwan a permanent home for the succeeding generations, a statement from the presidential office said yesterday.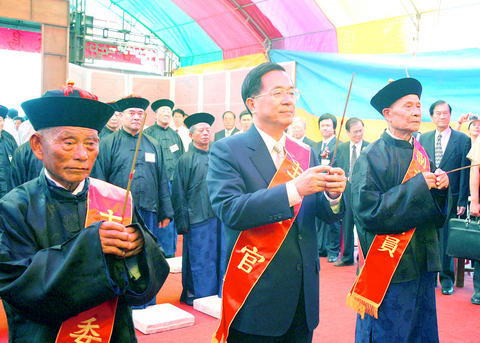 President Chen Shui-bian yesterday holds an incense stick at a family function in Kuantien Township, Tainan County, to celebrate the 320th birthday of the first family ancestor who emigrated to Taiwan.
PHOTO: CHEN YI-MIN, TAIPEI TIMES
He said that in the last six years, he had always carried a note with him bearing the name of the place where his ancestor lived in Fujian before coming to Taiwan.
"His [the president's] ancestors moved to Taiwan 300 years ago owing to a series of natural calamities in Fujian in the 1700s. But since the first arrival of his ancestor 300 years ago, none of the Chen family have moved back to China as they've already settled and recognized Taiwan as their homeland," the presidential statement said.
Making comparisons to other historical migrations such as the English settling in the US and later calling themselves Americans, Chen said this spirit is the same as his Chinese ancestors leaving China and deciding to make Taiwan their permanent home.
The president commended the Taiwanese people, a majority of whom are descended from Chinese who arrived from the southeastern coast of China during the last three centuries, not to forget their family origins and to treasure their current home.
The president also took the occasion to say that he was still in search of the exact location of the village where his ancestor came from.
He said he remembered that his family came from Ciyao village in Fujian Province's Shaoan County, which was printed on a memorial tablet of his ancestors on the family altar at his home in Tainan.
The Chen family clan started compiling a genealogy book in June last year and has confirmed that the clan has lived for 13 generations in Taiwan.
The genealogy book is expected to be completed in October this year, according to a Central News Agency report yesterday.
Comments will be moderated. Keep comments relevant to the article. Remarks containing abusive and obscene language, personal attacks of any kind or promotion will be removed and the user banned. Final decision will be at the discretion of the Taipei Times.