Legislators in a lather over impure olive oil products
MISLABELING? TSU lawmakers slammed olive oil brands for not making it clear that their products were blended with cheaper oils, but firms defended the mixing practice
Taiwan Solidarity Union legislators Tsenng Tsan-teng (曾燦燈) and David Huang (黃適卓) yesterday launched an attack on four major local brands for selling what they claim to be substandard olive oil.
According to the two legislators, certain types of products labeled "olive oil" and produced by Uni-President, Fwu-sow, Taisan Enterprise and Great Day are actually blended with cheaper oils.
The legislators claim that oils labeled as "olive oil" produced by these companies are up to 90 percent mustard seed oil or sun flower oil, but are sold at a higher price because of the better reputation of olive oil. They also claim that the presence of oils other than olive oil are not noted on the labels, thereby misleading the public in violation of Article 19 of the Regulation of Health Food (食品衛生管理法).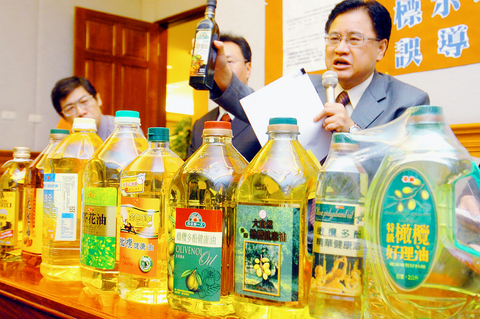 Taiwan Solidarity Union Legislator Tsenng Tsan-teng holds up a bottle of olive oil at a news conference yesterday, claiming that olive oil from four local producers has been mixed with cheaper mustard seed oil or sunflower oil.
PHOTO: CHANG CHIA-MING, TAIPEI TIMES
Olive oil contains between 71 percent and 79 percent unsaturated fatty acid, the highest percentage of any edible oil. It is this which gives olive oil its much vaunted medicinal benefits, including reducing the danger of heart disease and cancer.
According to Tsenng and Huang, a study has indicated that two-liter bottles of olive oil produced by Uni-President, Fwu-sow, Taisan and Great Day contained only 200ml of pure olive oil.
Tsenng said that pure olive oil sells for between NT$28.50 and NT$35.80 per 100ml, depending on quality, as opposed to NT$3.83 to NT$4.30 for mustard seed and sunflower oil.
They also pointed out that the same situation existed with peanut oil, which they said was often mixed with soybean oil, sesame oil or other vegetable oils to reduce cost.
Representatives of the manufactures refuted the accusations, according to Chinese-language media reports, saying that both pure and blended oils were available on the market, and with the exception of oils which were clearly labeled as 100 percent or pure olive oil, most others were blends of one kind or another.
According to Huang Yu-ting (黃玉婷) of Standard Foods Corp, the high price of imported olive oil has meant that most local brands blended the oils to keep prices lower and make the product more appealing to local consumers.
She said that the addition of other vegetable oils could in fact improve the healthy qualities of such oils, but that such mixtures would always be displayed on the label.
Comments will be moderated. Keep comments relevant to the article. Remarks containing abusive and obscene language, personal attacks of any kind or promotion will be removed and the user banned. Final decision will be at the discretion of the Taipei Times.