Agencies at odds over submarines
CRITICISM As government spokesmen gave various interpretations of the subs purchase, PFP legislators criticized the government for its 'reliance' on the US
The Industrial Development Bureau and the state-owned China Shipbuilding Corp (CSC) yesterday said that Taiwan is able to build submarines with a transfer of key US technology, but the Ministry of National Defense said the US would not help Taiwan do so.
But several legislators yesterday strongly criticized the government for "having no strategy" to promote the nation's submarine-building capability.
"Korea, Pakistan, Greece and Spain all built their own submarines, so why can't a technologically-advanced Taiwan do it too?" People First Party (PFP) Legislator Lin Yu-fang (林郁方) said.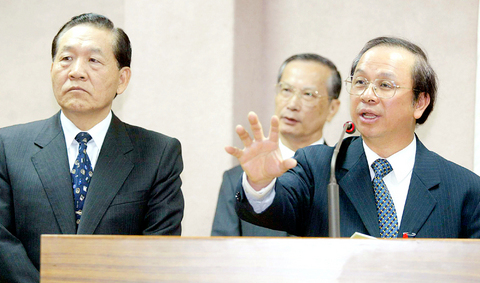 Vice Minister of National Defense Huo Shou-yeh, left, Industrial Development Bureau director Chen Chao-yih, right, and China Shipbuilding Corp president Fan Kuang-nan answer questions during a national defense committee meeting at the Legislative Yuan yesterday.
PHOTO: LIN CHENG-KUN, TAIPEI TIMES
"Taiwan's defenses have relied too much on the US, and the government has failed to enhance its defense industry," PFP Legislator Nelson Ku (顧崇廉) said.
But bureau officials were more upbeat.
"A cross-ministry task force has reached the conclusion that the CSC is almost able to build submarines without large-scale investment in its shipbuilding equipment," Industrial Development Bureau director Chen Chao-yi (陳昭義) told the legislature. "However, the US' provision of submarine blueprints and submarine weapons systems are two prerequisites."
Chen said the task force requested that the defense ministry negotiate with the US over the purchase of eight submarines, in which Taiwan would send personnel to observe the building of two submarines in the US, then build one-third of the third and fourth submarines, two-thirds of the fifth and sixth submarines, and the seventh and eighth vessels in their entirety.
Fan Kuang-nan (范光男), acting chairman of the CSC, said that the company was looking forward to building submarines for the navy.
"The company has assessed that it only has to spend NT$1 billion on equipment to build the submarines," he said.
However, Vice Minister of National Defense Huo Shou-yeh (霍守業) said the US does not support the idea of US-Taiwan co-operation in submarine-building.
"The US has told the ministry on several occasions that it won't help Taiwan build submarines, and the ministry thinks the US has no financial interest in doing so," he said.
Comments will be moderated. Keep comments relevant to the article. Remarks containing abusive and obscene language, personal attacks of any kind or promotion will be removed and the user banned. Final decision will be at the discretion of the Taipei Times.