TSU head visits controversial shrine
RARE VISIT Shu Chin-chiang's trip was lauded by some in Japan, but condemned by a lawmaker here who cited Japan's military campaigns against Taiwan's Aborigines
Taiwan Solidarity Union (TSU) Chairman Shu Chin-chiang (蘇進強) made a pilgrimage yesterday to a Tokyo war shrine, in a rare visit by a senior Asian political figure to the sanctuary which has tarnished Japan's relations with neighboring countries.
Shu immediately came under fire at home for the visit where he was accused of dignifying Japan's militarism in the early 20th century.
Shu, dressed in a business suit, was cheered on by supporters who unfurled the flags of Japan and his party as he entered the Yasukuni shrine which is dedicated to 2.5 million war dead, including 14 convicted war criminals.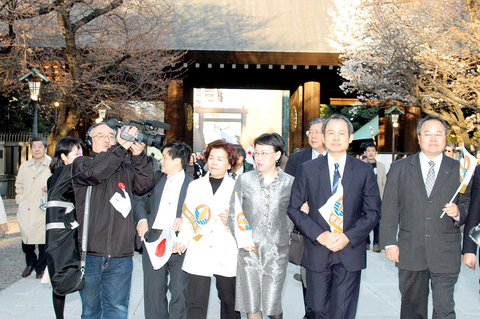 Taiwan Solidarity Union (TSU) Chairman Shu Chin-chiang, second right, his wife, third right, and some party officials visit a Tokyo war shrine yesterday.
PHOTO: CHANG MAO-SANG, TAIPEI TIMES
He called on Asians to "move beyond the grudges and animosity of the past."
"As one Taiwanese and as a leader of a political party I have come here to pay my respect to the soldiers who sacrificed their lives for Japan," Shu said.
"At the same time, as one Taiwanese, I have come here to pay my respect for 28,000 Taiwanese," whose names are enshrined, he said.
Supporters said it was the first known visit to Yasukuni in modern times by a party leader from Taiwan, which was ruled by Japan from 1895 to 1945.
Pilgrimages by Asian leaders are extremely rare to the Shinto shrine in central Tokyo, although military envoys and attaches from countries in other regions have often paid visits.
China has refused any bilateral visits with Prime Minister Junichiro Koizumi over his visits to the shrine.
"Chinese thinking and perspectives don't represent those in Asia. And more so, they don't reflect the views of Taiwan," Shu said. "As a Taiwanese, I don't agree that China still harbors a grudge."
"I wanted to stress this point that the way every nation mourns its war dead should be respected," he said.
The Yasukuni shrine controversially lists the names of 28,000 Taiwanese and 21,000 Korean soldiers, most of whom were forced into service under Japan's colonial rule.
The holy site also lists the names of Japanese civilians who died in fighting.
The populist Koizumi has visited the shrine four times since August 2001, saying he has the right as a Japanese person to choose how to honor the dead.
His visits have triggered furious protests from China and South Korea and led to a string of unsuccessful lawsuits by Asians bereaved in World War II who accused Koizumi of causing them emotional distress.
In Taipei, Aboriginal legislator Kao-Chin Su-mei (高金素梅) angrily objected to Shu's pilgrimage.
"Japan launched over 160 battles to destroy Taiwan's Aboriginal tribes during its 51-year colony on the island," he said in a statement.
"We strongly protest the TSU visiting the Yasukuni Shrine," he said. "It is already an insult to Taiwan's Aboriginal people that our soldiers were enshrined there."
TSU spokesman Chen Chien-ming (陳建銘) said that Su's visit was timed ahead of today's holiday to honor the dead, called Tomb-Sweeping Day.
"We do not agree with the acts and invasions of the Japanese militarism [during World War II] but we should not let hatred persist," Chen said in Taipei.
Comments will be moderated. Keep comments relevant to the article. Remarks containing abusive and obscene language, personal attacks of any kind or promotion will be removed and the user banned. Final decision will be at the discretion of the Taipei Times.