Japan and US `dissuade' China
NEW STRATEGY The nation's former top representative to Tokyo said that the recent US-Japan joint security statement showed the two countries have shifted strategies
When it joined the US last month in a security agreement identifying Taiwan as a shared security concern, Japan shifted its stance on the Taiwan issue from ambiguity to clarity, the country's former representative to Japan said yesterday.
Lo Fu-chen (羅福全), president of the Ministry of Foreign Affairs' Association of East Asian Relations and Taiwan's envoy to Japan from 2000 to last year, said in an interview that the Japan-US declaration marked a new policy of "dissuasion" of China, as opposed to the containment strategy pursued by the US against communism after World War II.
In light of China's military expansion and its passage of the "Anti-Secession" Law, Tokyo and Washington, by establishing the dissuasion strategy, hope to see China turned into a constructive power rather than a military threat, Lo said.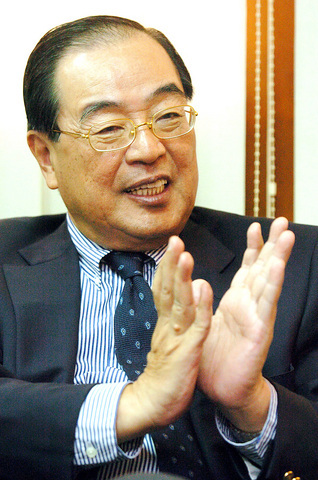 Association of East Asian Relations Chairman Lo Fu-chen gestures during an interview with the ``Taipei Times.''
PHOTO: GEORGE TSORNG, TAIPEI TIMES
Japan and the US teamed up to dissuade China, the third party, from resorting to non-peaceful means to solve its problems with Taiwan. As the US transforms its military deployment in the Far East, Lo said, Japan would provide support for the US forces wherever possible.
Article 9 of the Japanese Constitution, which states that Japan can never maintain land, sea, and air forces, as well as other war potential, restricts the country's present military role. Nevertheless, Lo said there is a desire on the US part for Japan to amend Article 9 in order to take a more active military role.
"When I was the representative to Japan, the Bush administration sent an official to Japan discussing the amendment of Article 9. The war ended 60 years ago and the US wanted Japan to become a normal country," Lo said.
Since Japanese Prime Minister Junichiro Koizumi and US President George W. Bush took power, the two countries' relationship has improved remarkably and is now "in its best ever shape" since the end of World War II, Lo said.
The strengthening Japan-US alliance and the possible amendment of Article 9 of the Japanese Constitution indicate that Japan could cooperate with forces of the US, which has obligations under the Taiwan Relations Act to defend Taiwan, the official added.
The Taiwan Strait is too shallow for Chinese submarines to conduct activities; therefore, the submarines have to carry out military exercises in waters east of Taiwan. To get there, the submarines, which set off from Qingdao, have to pass two Japanese islands, Ishigaki and Miyako, Lo explained.
Japan will now deploy 400 soldiers to the two islands, which are part of Okinawa Prefecture. The intrusion of a Chinese submarine into waters between the two islands last November, Lo said, showed that China is now capable of putting its armed forces beyond what its military calls the "first island-chain" to the "second island-chain."
In Chinese military planning, the first and second island chains describe the sphere of influence that China expects to achieve in the Pacific Ocean. The first chain stretches from Japan though Okinawa, Taiwan and the Philippines to Brunei. The second chain extends further east and to Australia's doorstep.
Shortly after the Chinese Han-class submarine was detected in Japanese waters last November, President Chen Shui-bian (陳水扁) told a group of Japanese officials that Taipei informed Tokyo that the submarine broke into its waters.
Japan denied Chen's claim, which led the Presidential Office to express regret over Japan's stance on the incident. Lo, however, said that neither side has lied about the submarine incident.
"The fact is that Japan detected the submarine's movement from the moment it departed from Qingdao. Tokyo kept a close eye on the submarine for 53 hours, knowing that it passed the island of Okinotorishima, reached the east side of Guam, and went through an ocean trench between Ishigaki and Miyako on its way back," Lo said.
Based on the movement of the submarine and the route it took, Japan believed the submarine must have taken several trips in its waters before.
"Otherwise it could not have possibly known the existence of the ocean trench between Ishigaki and Miyako," he added.
As the submarine travelled through the ocean trench, Japan demanded that it surface. But it would not heed the request.
"At that point, Tokyo decided to let its public know about the intrusion of the Chinese submarine," Lo said. "It wanted the public to know that China had gone too far."
Taipei did alert Tokyo of the presence of the submarine, Lo said, but later realized that Tokyo had known about the vessel's trip.
The submarine incident was just one event that has led to worsening Japan-China ties. In China, anti-Japan sentiment was fueled by former president Lee Teng-hui's (李登輝) trip to Japan last year and Koizumi's visits to the Yasukuni Shrine, a site that Japan's neighbors strongly associate with its militaristic past.
Lo noted that Taiwanese officials' visits to Japan should be seen as a normal event rather than Taiwan's deliberate move to provoke China.
"China cares very much about such symbolic gestures ... Beijing was unhappy that Japan told it about the decision to issue Lee a visa the day before Lee got his visa," he added.
Taiwanese and Japanese lawmakers should strengthen mutual exchanges, Lo said. During his stint in Japan, more than 250 members of the Diet -- Japan's parliament -- visited Taiwan.
The former envoy did not find Koizumi's visits to the war shrine disturbing.
"Koizumi made his thoughts very clear before he visited the site," Lo said. "He stressed that Japan should never repeat its militaristic past but said that he, as the prime minister, should pay homage to those who sacrificed their lives for Japan."
Koizumi would not be moved by China's demand not to visit the shrine. "He makes his own decisions," Lo said.
Citing out that a recent poll showed that more than 58 percent of the Japanese people disliked China, Lo explained that by contrast, ties between Taiwan and Japan are growing warmer. He said one of the main reasons is that both are democratic countries.
That's not to say that Taiwan and Japan don't have their differences, though. Lo said that the two countries should work together to set a temporary boundary on their economic waters so as to reduce fishing disputes.
The boundary between the two countries' economic waters remains undefined even though both sides have held more than 20 meetings on the issue.
Earlier this month, hundreds of fishermen gathered in front of Japan's representative office in Taipei to protest being arrested by the Japanese coast guard for fishing in an economic zone claimed both by Taiwan and Japan.
"Japan has settled economic waters boundaries with North Korea and China. We should at least set a temporary boundary with Japan," he said.
Publication Notes
Lo Fu-chen
* Date of Birth: May 8, 1935
* Place of Birth: Taiwan
* Education: BA, Economics, National Taiwan University; MA, Economics, Waseda University; PhD, Economics, University of Pennsylvania
* Career: Visiting scholar, University of Pennsylvania; chief economist of Asian and Pacific Development Center; representative to Japan, 2000-2004
* Interests/Hobbies: Chinese calligraphy, painting and reading
* Publications: ``Emerging World Cities in Pacific Asia,'' ``Globalization and the World of Large Cities''
Comments will be moderated. Keep comments relevant to the article. Remarks containing abusive and obscene language, personal attacks of any kind or promotion will be removed and the user banned. Final decision will be at the discretion of the Taipei Times.