For Koo, the outsider's role is a natural one
Koo Kwang-ming (辜寬敏), dubbed "the Godfather of the Taiwan Independence Movement," has been the maverick of the Koo family all his life. \nUnlike his half-brother Koo Cheng-fu (辜振甫) and his nephew Jeffery Koo (辜濂松), who have enjoyed privileged status with both the former Chinese Nationalist Party (KMT) regime and Democratic Progressive Party (DPP) government, Koo Kwang-ming has chosen the dissident's role. \nHe was a political outcast during the Martial Law era and is now an outspoken critic of President Chen Shui-bian's (陳水扁) willingness to compromise when faced with strong political opposition. \nThe death of Koo Cheng-fu, the nation's former top negotiator with China and the leader of the Koo's Group, was front-page news last month. Jeffery Koo, chairman of the Chinatrust Group, has served as ambassador-at-large for both the KMT and DPP governments and as the government's special economic envoy to Japan. \nKoo Kwang-ming was invited to Chen's second inauguration ceremony last year. He threatened to stand up and leave the ceremony if Chen reiterated the so-called "four noes" pledge in his address. But he stayed seated, even though Chen implicitly implied that he would keep his "four noes" promise. \n"My pals all laughed that I had swallowed my words. But since Chen did not directly mention the `four noes' and since he was speaking in Mandarin Chinese when mentioned that part, I failed to understand his point due to my poor Mandarin ability," Koo said. \nLast year, Koo Kwang-ming told Chen in person that he would resign as senior adviser to the president because he had decided to buy ads in the Washington Post, the New York Times and the Taipei Times urging the US to scrap its "one China" policy. \n"I told the president I wanted to resign because I didn't want to trap him into an embarrassing situation with my ads," Koo Kwang-ming said. "But the president declined my resignation and told me that the president's senior adviser also enjoys freedom of speech." \nHe has again offered his resignation to the president to show his disagreement with Chen's 10-point consensus with People First Party (PFP) Chairman James Soong (宋楚瑜). He is also considering leaving the DPP. Chen has not accepted his resignation. \n"The president hopes to continue communicating with him [on this matter]," Chen Wen-tsung (陳文宗), director-general of the Presidential Office's Department of Public Affairs, said yesterday. \nKoo Kwang-ming earned the enmity of former president Lee Teng-hui (李登輝) and the two men were on the outs for 12 years. They reached a rapprochement only after Lee's term was over. \nIn 1990, when Lee first ran for the presidency on his own, the president was still elected by the National Assembly. \n"I saw Lee on TV bidding for those old men's support. I felt so disgusted that I wrote an aggressive article in the magazine I had created to lash out at him. I called him `a collaborator of the dictators' and the `Taiwanese people's shame.' The article antagonized him so much that he cut off relations with me," Koo Kwang-ming said. \nAfter his retirement, Lee once went to the Tamshui Golf Cub to play golf. As club president, Koo Kwang-ming had to be there to receive Lee. \n"As soon as he saw me, he greeted me by calling me `Mr. Koo.' Immediately, we laughed together and forgot our feuding," he said. \nBorn in 1926, Koo Kwang-ming was the youngest son of Koo Hsien-rong (辜顯榮), one of the most powerful and richest businessmen and politicians during the Japanese colonial era. His mother was one of his father's five wives, a Japanese woman named Yoshiko Iwase. \nIn 1944, Koo entered National Taiwan University's department of political science and later became the chairman of the students' association. Since he was deeply involved in the student movement, he had to flee to Hong Kong after the 228 Incident. His prolonged absence from class led to his expulsion from the university. He lived in exile in Japan until 1971 when he was invited to come back home for a meeting with then vice premier Chiang Ching-kuo (蔣經國). \nHe never allied himself with the KMT regime and continued to sponsor pro-independence forces overseas. He joined the DPP in 1996 together with his life-long comrade Peng Ming-min (彭明敏) when Peng was running for the presidency under the DPP's banner against Lee. \nJeffery Koo's son Jeffrey Koo, Jr. (辜仲諒) once described the family members' political stances as "one country on each side." \n"In my family, the situation of `one country on each side' has existed for long time. My eighth grand uncle [Koo Kwang-ming] and my grandma [Koo Yen Pi-hsia (辜顏碧霞)] support the DPP, while my fifth grand uncle [Koo Cheng-fu] and the rest of us support the KMT," he was quoted as saying by Next magazine. \nPolitically Koo Kwang-ming and Koo Cheng-fu were like people from two different countries who did not speak the same language. \nKoo Kwang-ming said that during last year's presidential election campaign, he urged his brother to come out publicly in support of Chen to help boost the economy. \n"Since my brother was an economic expert, I told him for that for the sake of stability, it was better that Chen be re-elected. How could we improve our economy if the government changed every four years?" he said. \nKoo Cheng-fu allegedly said he would think about it. But 10 days before the election, when Koo Kwan-ming asked his brother for his answer, he was disappointed. \n"He told me it was also good that KMT Chairman Lien Chan (連戰) be elected," Koo Kwang-ming said. " My pals all told me don't waste my time trying to persuade my brother politically. It's simply hopeless." \nOne piece of common ground between the brothers was defending their father's name. The controversy over Koo Hsien-rong's move to open door of the Taipei city gate for Japanese troops to enter the city in 1895 is a topic that preoccupies the entire family. \nOn the eve of Koo Cheng-fu's meeting with his Chinese counterpart Wang Daohan (汪道涵) in 1993, Chen, then a legislator, questioned Koo Cheng-fu in the legislature, asking if he would behave like his father who had introduced the Japanese into Taipei and betrayed the Taiwanese. \nKoo Kwang-ming was so irritated by Chen's question that he called a press conference at the legislature the very next day to rebuff Chen's accusation. \nAfter the Treaty of Shimonoseki was signed and the Chinese governor, Tang Ching-sung (唐景崧), headed back to China, "Taipei was in chaos, because the Chinese soldiers suddenly became bandits. The people longed for order. My father was pushed to guide the Japanese troops into the city to help maintain order," Koo Kwang-ming said. \nHis wife Michelle Wang (王美琇), who is 32 years his junior, describes her husband as "a boat sailing against the wind." \n"He has been rebellious all his life because his thinking and logic are the opposite to those of the general public," she said. \nAfter 10 years of marriage, Wang said their relationship consists mainly of discussing political issues. \n"He is a man carrying the whole nation on his back. Taiwan is his only concern," she said.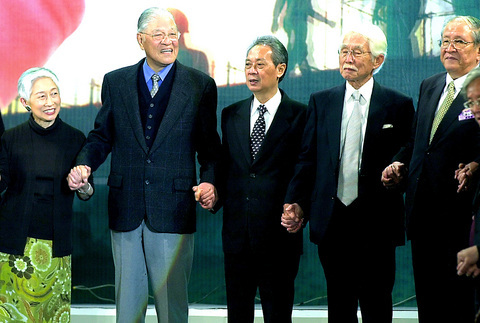 National Policy Advisor Alice King, former president Lee Tung-hui, former Taiwan Solidarity Union chairman Huang Chu-wen and Senior Advisor to the President Koo Kwang-ming, from left to right, join hands during a fund-raising dinner for the ``Hand-in-hand to protect Taiwan'' event on Jan. 11 last year.
TAIPEI TIMES FILE PHOTO
Comments will be moderated. Keep comments relevant to the article. Remarks containing abusive and obscene language, personal attacks of any kind or promotion will be removed and the user banned. Final decision will be at the discretion of the Taipei Times.