Chiang Fang-liang remembered
STOICISM, ENDURANCE Faina Vahaleva married Chiang Ching-kuo when she was 18, and later became first lady. Despite her position, she preferred to remain in the shadows
Faina Chiang Fang-liang (蔣方良), widow of Chiang Ching-kuo (蔣經國) and first lady of the Republic of China on Taiwan from 1978 to 1988, died yesterday at 12:40pm. \nShe died of respiratory failure brought on by lung cancer at age 88. But for her title of first lady, most in Taiwan know little of her. Unlike her predecessor, Soong Mayling (蔣宋美齡), who glittered both on the domestic and the international stage, Chiang Fang-liang was always a first lady in the shadows. \nBorn Faina Epatcheva Vahaleva in Sverdlovsk, Siberia (now Ekateringburg, Russia), Vahaleva was orphaned at a young age and raised by her older sister Anna. An outspoken member of the Communist Youth League, Vahaleva met Chiang Ching-kuo at the age of 16 at the Ural Heavy Machinery Plant in Siberia, where Chiang was working in exile after his father, Chiang Kai-shek (蔣介石), purged the leftists from the Chinese Nationalist Party (KMT). \nVahaleva married Chiang Ching-kuo two years after they met, on March 15, 1935. Their first son, Hsiao-wen (孝文) was born in December 1935. The couple had two more sons, Hsiao-wu (孝武) and Hsiao-yung (孝勇) and a daughter (孝章). \nNot long after the couple's marriage, Chiang Ching-kuo's reserve communist party member status was cancelled and he was not allowed to work. Vahaleva became the sole bread-winner for the family of three. \nIn early 1937, relations between China and the USSR eased. Stalin dramatically allowed Chiang to return to China. Perhaps Vahaleva had thought little of the different language, culture and traditions in China that would no doubt be a great barrier to her, or perhaps her love for her husband gave her all the courage needed. In any case, the Russian bride followed her husband to China. \nChiang Kai-shek was reportedly at first dismayed to have a Communist Russian daughter-in-law. But after the two met, Vahaleva -- who has been described as possessing the virtues of a traditional Chinese woman to a greater degree than a Chinese woman -- soon won the approval of her father-in-law and was given the name Fang-liang. \nChiang Fang-liang stayed behind to live with Chiang Ching-kuo's mother, Chiang Kai-shek's first wife, Mao Fu-mei (毛福梅), in Xikou (溪口), Zhejiang (浙江). The two got along well and she learned the local Ningbo dialect. \nPerhaps it was because of self-consciousness regarding her Mandarin -- with her Russian accent and Ningbo dialect -- that when Chiang Ching-kuo later became president, Fang-liang was often anxious about appearing in public. \nIf the traditional role of First lady was to be the silent shadow behind the president, Fang-liang filled it perfectly. Throughout her husband's political career, she stayed out of the public spotlight. \nLittle was ever known of her, except for her modest and simple lifestyle. She even exhibited the habits of a peasant housewife. She was used to doing all the household chores herself instead of employing servants. She would ask for her husband's approval for everything. Private household expenses, such as water and electricity bills, as well as salaries for servants, were all paid directly by Fang-liang from Chiang Ching-kuo's paycheck, instead of being deducted as public expenses. \nOnce a subordinate suggested to her, "everyone else deducts these as public expenses, why don't you let me handle them?" \nFang-liang replied that she had to ask her husband first, and called back a few days later saying, "No. He said no. We have to pay these ourselves." \nFang-liang mastered English after coming to Taiwan, and her fluency enabled her to access world news and events through English publications -- which probably limited her knowledge of her husband's affair with Chang Ya-ruo (章亞若). \nAfter Chiang Ching-kuo died, Fang-liang reportedly asked her second son Hsiao-wu, "I only have three sons, why are there reports saying I have five?" \nHsiao-wu, who had publicly reconciled with his half-brother Chang Hsiao-yan (章孝嚴/John Chang) chose to respond with silence. \nThe affair Chiang Ching-kuo had with Chang Ya-ruo occurred around 1940, and she bore him two sons: Hsiao-yan and Hsiao-tzu (孝慈). \nNo one, not even Hsiao-wu, knew if Fang-liang was aware of her husband's past romance with Chang Ya-ruo, but no one wanted to destroy the image of Chiang Ching-kuo in Fang-liang's heart. \nHer old age was beset by ill-health, including heart disease, diabetes and chronic obstructive pulmonary disease, and the tragic loss of first her husband, then her sons. Chiang Ching-kuo passed away in 1988. Of her three sons, Hsiao-wen died in in 1989, Hsiao-wu in 1991 and Hsiao-yung in 1996. \nHer health further deteriorated four years ago with the discovery of a tumor in the upper part of her left lung. When she underwent an X-ray examination on Dec. 6, fluid was discovered in her left lung. After being plagued by ill-health for over 10 years, Chiang Fang-liang's heart finally ceased beating at 12:10pm yesterday at Taipei Veterans General Hospital. \nFew first ladies in history stand out as being influential. Soong Mayling of the ROC, the US' Hilary Clinton and Eva Peron of Argentina are perhaps exceptions, but unlike them, Chiang Fang-liang endured a life away from her home country, and coped with being placed in the awkward position of being the first lady of an anti-communist nation when her own country was the proselytizer of world communism. And she lived out her final years alone, with her remaining daughter living in the US and most of her friends having passed away. \nChiang Fang-liang lived her life with the weighty crown of first lady. While she never enjoyed the glamour associated with the title, she will be remembered for her stoicism.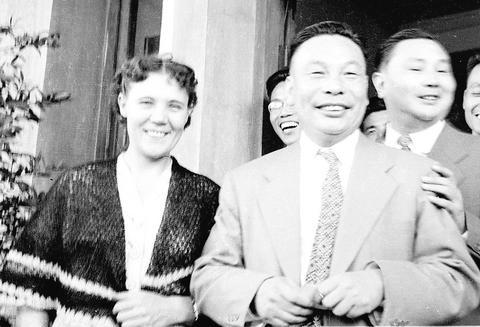 The late Faina Chiang, left, the Russian-born wife of former president Chiang Ching-kuo, is seen walking with her husband on the tarmac of Sungshan Airport in Taipei before a trip to the US in this photo taken Oct. 20, 1953. Chiang died yesterday at age 88.
PHOTO: AP/CNA
Comments will be moderated. Keep comments relevant to the article. Remarks containing abusive and obscene language, personal attacks of any kind or promotion will be removed and the user banned. Final decision will be at the discretion of the Taipei Times.