`Go south' strategy threatened
PROMOTION NEEDED With more than 65 percent of investment going to China in the first quarter, the strategy to diversify to Southeast Asia doesn't seem to be working
Two years after President Chen Shui-bian (陳水扁) reintroduced the government's "go south" policy, many think the strategy lies in tatters. \nThe policy, first announced in 1994, aims to lessen Taiwan's economic dependence on China by encouraging the country's businessmen to invest in Southeast Asian countries. \nIn July 2002, Chen urged people not to "hold any illusions about China" and said Taiwan's "go south" policy would be further highlighted. \n"With the government's backing, Taiwanese enterprises should look to Southeast Asia's potential instead of seeing China as the only market in the world," he said at the time. \nBut last year, Taiwan's overall investment in seven ASEAN countries -- Thailand, Malaysia, the Philippines, Indonesia, Singapore, Vietnam and Cambodia -- reached only US$937 million, according to Ministry of Economic Affairs (MOEA) statistics. \nDuring the same period, the nation's investment in China amounted to US$7.7 billion, or 53.66 percent of total foreign investment. \nMoreover, for the first quarter of this year, Taiwan's investment in China climbed to 67.43 percent of its total foreign investment, the ministry's Industrial Development and Investment Center's numbers show. \nAccording to the center's statistics, investment in the seven ASEAN economies peaked between 1994 and 1997. Taiwan poured more than US$4 billion each year into the region during the period. \nFrom 1998 to 2001, investment dropped and fluctuated between US$1 billion and US$2 billion per year. \nTwo year struggle \nWhen Chen reiterated the government's determination to continue the "go south" policy in 2002, Taiwan's investment in the region had plummeted to US$692 million -- the lowest point since 1994. \nStill, in the APEC summit in Mexico in October 2002, the Sultan of Brunei and Philippine President Gloria Macapagal Arroyo welcomed Taiwan's "go south" policy. \nThey expressed their appreciation for Taiwan's initiative to Lee Yuan-tseh (李遠哲), the nation's representative at the meeting. \nAt the end of that year, former foreign minister Eugene Chien (簡又新) was confronted in the legislature with a report by the Council for Economic Planning and Development, which said Taiwan's investment in Southeast Asia had fallen dramatically. \nChien, however, insisted the policy had to go on. \n"Southeast Asian countries are our best neighbors. We'll suffer a great loss if we fail to conduct close economic exchanges with them," he said in defense of the policy. \nNow businessmen are not so sure the policy is viable. \n"During my recent trip to Malaysia, a Taiwanese businessman working there asked me whether the government is still seriously pursuing the `go south' policy," Tsai Horng-ming (蔡宏明), deputy general secretary of the Chinese National Federation of Industries, said earlier this week. \nLimited impact \nThe policy is not a complete failure, but its impact has been limited, according to Tsai. \nAccording to the MOEA's Bureau of Foreign Trade, bilateral trade volume between Taiwan and ASEAN reached US$34.88 billion last year, a 112.2 percent growth compared with trade volume in 1993. \nTsai, however, said few businessmen personally felt they had benefited from the policy. \n"Businesspeople do not benefit much from the policy. We don't have enough information about Southeast Asia and are unaware of market opportunities there," he said. \nLinguistic and cultural barriers have also posed huge challenges for Taiwanese businessmen considering investment in Southeast Asia. \n"We don't speak their languages and are unfamiliar with their cultures. Things are much easier in China because people there speak Chinese," Tsai said. \nTsai, who urged the government to reexamine its "go south" policy after the 1997 financial crisis, wrote an article asking the government to offer information about Southeast Asia on a regular basis so that businessmen could "make the right judgment on the markets." \nIn Taiwan, information on Southeast Asia was scarce. The government needed to strengthen businessmen's understanding of the region's local cultures, societies and customs in promoting the "go south" policy, he said. \n"Moreover, the best way to do business in Southeast Asia is through collective investment," he suggested. \nThe government should set up more industrial zones in Southeast Asian countries, recruit Taiwanese businesspeople to invest there, and help them get necessary support from the host countries, Tsai said. \nExpanding markets in the host countries and cooperating with local governments to improve the countries' infrastructure, he added, were also vital steps Taiwan needs to take in order to make the "go south" policy successful. \nTo keep the "go south" policy going, he said, the government needs to come up with a thorough plan. \nCriticisms noted \nThat is what the government has been striving to do, said Paul Wang (王振福), director of the Department of Bilateral Trade Relations at the Bureau of Foreign Trade. \nAcknowledging criticism of the "go south" policy, Wang, who is in charge of the country's trade in Asia, Oceania and the Middle East, has not given up hope of reviving the strategy. \n"We know most of our businessmen would choose to invest in China instead of Southeast Asia not only because China's labor is cheap but also because our cultures are similar," Wang said. \nChina routinely dispatches high-profile officials to attract Taiwanese investment. The country's attraction is almost irresistible, Wang said. \nSo can the "go south" policy help the government reduce the risk of concentrating too much investment in China? \n"We have readjusted the policy," Wang said. \nWhen the policy was launched in 1994, it was meant to reap political and diplomatic benefits for the country through strengthening trade ties with Southeast Asian nations. \nThe limited success the policy had over the past decade, however, has forced the government to consider a more practical line. \n"We now focus on meeting our businessmen's needs," said Wang, displaying papers that provide detailed information about doing business in New Zealand, Australia and ASEAN states. \nASEAN nations have a 500 million strong population and is too big a market to be ignored, he said. \nEstablishing more industrial zones for Taiwanese businessmen in Southeast Asia is one option, Wang said. \nThe bureau is also conducting research on each individual Southeast Asian economy in order to find out the most suitable industries for investment. \nTargeting industries \nFor example, its initial findings showed that in Vietnam, textile industry, car components and accessories and electronic products are potentially profitable areas for Taiwanese businessmen to work in. \nThe research recommended investment in Indonesia's scooter accessories and components production, Malaysia's food industry, Australia's biotechnology, cars and mines, and Thailand's agriculture and food processing industries. \nThe bureau plans to hold seminars to introduce businessmen to market opportunities once the research is complete, Wang said. \nThe bureau will continue pushing for ministerial-level meetings on economic cooperation and use the World Trade Organization to help Taiwanese businessmen seek investment opportunities and remove trade obstacles. \nFilas Chen (陳福生), a section chief at Wang's department, was once posted to Thailand and Malaysia to help Taiwanese businessmen. \nThe MOEA usually sends one to three trade officials to each Southeast Asian country to counsel Taiwanese businessmen. \n"However, our businessmen need to find the property and workers needed to establish factories by themselves. This is beyond our power," Filas Chen said. \nThe government has negotiated with several countries in order to secure investment in turbulent times. \n"We reached a deal that if political unrest breaks out, our businessmen would be able to pull out their investment unscathed," he said. \nThe ministry has made some effort to help businesspeople learn local languages. It once opened some language courses for businessmen. \n"But not many people are interested in joining the classes," the official said. \nFilas Chen said that when he was in Thailand, Taiwan's representative office there produced tapes to teach businesspeople basic Thai. \nChina irresistible \nDespite all the government's efforts, Taiwanese businessmen still swarm to China and largely ignore Southeast Asia, Filas Chen said. \n"Ninety out of 100 businessmen in Taiwan would choose China rather than Southeast Asia, but we hope they will at least give Southeast Asia some thought," he added. \n"China is such a big opportunity. Few can remove their eyes from the `big cake.' We hope our investment will not concentrate on China -- but we know it will likely continue to be so," Filas Chen said. \nThe government, he added, in the country's interest, still needs to do its best to diversify investment risk, even though it has encountered frustration over the "go south" policy. \nYan Jiann-fa (顏建發), vice chairman of the Ministry of Foreign Affairs' Research and Planning Committee, said the bureau has shifted the "go south" policy in the right direction. \n"We should not aim high. We need to be practical and think about how to help our businessmen make profits," Yan said. \nThe political atmosphere in Southeast Asia, he said, has changed a great deal since Taiwan implemented its "go south" policy. \nIn the 1990s, some Southeast Asian nations were still willing to receive former president Lee Teng-hui (李登輝). \nToday, due to heightening cross-strait tensions, Southeast Asian countries no longer welcome visits by Taiwanese leaders. \n"It is almost impossible for President Chen to travel to the region now," Yan added. \nChen's announcement of the reaffirmation of the "go south" policy two years ago was followed by a flurry of high-ranking Taiwanese officials' visits to Southeast Asia, New Zealand and Australia. \nIn August 2002, Vice President Annette Lu (呂秀蓮) paid a surprise visit to Jakarta, where she was denied entrance and transferred to Bali. \nEric Teo Chu Cheow, Council Secretary of the Singapore Institute for International Affairs, went so far as to conclude that this "important shift in Southeast Asia could spell the complete demise of Taiwan's `go south' policy altogether." \nIn an interview with Radio Singapore International in June, the business consultant said "ASEAN-China relations have clearly consolidated to the detriment of Taiwan, Japan and the US." \n"The successful strengthening of ASEAN-China relations, despite their recent historical animosities and economic difficulties, will now constitute a real challenge to Taiwan's foreign policy, as cross-strait relations remain uncertain and tense, especially after President Chen Shui-bian's inauguration for a second term in office," he said. \nStill hope for strategy \nBut while Teo believes the "go south" policy is going nowhere now, Yan stressed that the policy -- which he called "a grand strategy" -- still has a chance to open new doors for Taiwan if brought onto the right path. \n"In the past, we hoped to turn economic power into political and diplomatic gains, but that was very difficult," Yan said. \nTaiwan cannot expect Southeast Asian countries will listen to it just because it poured capital into the region, he added. \nTo continue the "go south" policy, the government should stop pushing for leaders' visits that are mainly meant to boost visibility, he suggested. \nWhat the government can do, he said, is to create a favorable investment environment for Taiwanese businessmen in Southeast Asia. \n"We should try to let our businessmen feel at home there. We can do this," Yan said.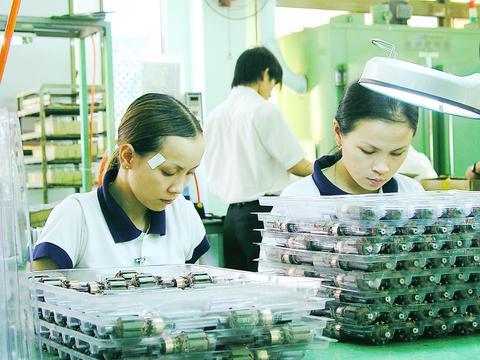 The outstanding work performance of Vietnamese women such as those above has been highly praised by Taiwanese businesspeople currently operating in the country. Taiwanese investment to Southeast Asian countries such as Vietnam has not increased as much as was hoped with the ``go south'' strategy, with the lion's share of the nation's investment still headed to China.
PHOTO: KAO CHIA-HO, TAIPEI TIMES
Comments will be moderated. Keep comments relevant to the article. Remarks containing abusive and obscene language, personal attacks of any kind or promotion will be removed and the user banned. Final decision will be at the discretion of the Taipei Times.